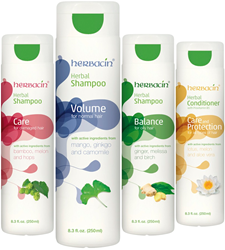 Herbacin offers gentle skin, foot and hair care products that help to replenish lost moisture after a long summer's day outdoors, at the beach or in the pool.
Dallas, TX (PRWEB) August 04, 2014
During the summer months, our skin and hair is exposed to steamy humidity, hot scorching sunshine; and salty, chlorine-filled waters. All of this takes its toll. Luckily, Herbacin offers gentle skin, foot and hair care products that help to replenish lost moisture after a long summer's day outdoors, at the beach or in the pool.
Feet take the daily punishment of carrying our weight around all day in summer, which can cause them to feel sore and heavy. The Herbacin Foot Care Line offers six foot care products including Foot Cream, Leg Lotion, Cooling Gel, Cleansing Gel, Foot Peel and Warming Balm. Available in naturally derived scents including menthol and camomile, Herbacin's Foot Care products soothe tired feet and ankles, keep skin refreshed and smooth and looking and feeling summer dress and sandal ready all summer long!
For summer-ready legs and feet, scrub your feet with Herbacin's Foot Peel which is packed with Himalayan salt and almond oil, which aids in smoothing rough skin by removing superfluous cornea. After scrubbing, massage your feet with Herbacin's Foot Cream. Containing vitamin E, natural oils, camomile flower extract, allantoin and panthenol, Herbacins's Foot Cream helps to soothe and regenerate the skin. Top it all off with Herbacin's Leg Lotion, which moisturizes and offers instant relief from tired legs. With natural avocado oil and camomile blossom extracts, the lotion soothes and nourishes the sensitive skin of your legs, protecting them from dehydration.
"It's important to replace the moisture that your skin loses during the hot summer months! That's why we pay close attention to the quality of the ingredients in our products, to ensure that your skin is getting fed the very best natural ingredients to keep skin feeling and looking soft," says Stephan Thien, Vice President of Herbacin Cosmetics.
After a day at the beach or in the pool, clean off the salt and chlorine with Herbacin's Herbal Shower Gels and Shampoos & Conditioners. Herbacin's Shower Gels are available in relaxing scents like Dragon Fruit + Passion Fruit, Chamomile + Green Tea and Lemongrass + Ginger. Herbacin's Shower Gels use natural herbal extracts and cold pressed peanut oil that offer healing and skin conditioning properties.
Herbacin's Herbal Shampoos and Conditioners are 100 percent silicone free and are made up of natural herbal extracts and plant-based raw materials to keep hair nourished. healthy and shiny all summer long. They are available in scents including Lotus, Melon + Aloe Vera, Ginger, Melissa + Birch, Bamboo, Melon + Hops and lastly, Mango, Gingko + Camomile.
Herbacin cosmetics is a family owned and operated European company that has been producing pure and natural formulations for more than 100 years. Recognized for their commitment to quality and efficacy, Herbacin's hair, skin and foot care lines contain natural and organic ingredients and only the finest sustainable herbs and botanicals.
About Herbacin®
Founded in the heart of Germany in 1905, Herbacin created a very distinctive brand early on, that to this day reflects its collaboration with nature. By sourcing the very best organic ingredients this trusted brand has become well-known for formulas that work. The original Herbacin hand lotion is still a beloved product and women around the globe instantly recognize its distinctive green packaging.
This European botanically-based skin, hair and body care line is highly regarded for its commitment to product excellence and integrity. All Herbacin products are produced at the company's facility in Wutha-Farnroda, Germany and undergo dermatological testing to ensure purity and efficacy.
The full line includes: Herbacin Kamille Green Line, Herbal Facial Care, Herbal Hair Care, Herbal Shower Gel, as well as a Foot Care Line.
Herbacin products are available in 40 countries worldwide.