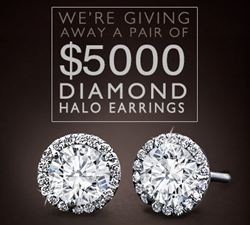 Los Angeles, CA (PRWEB) August 05, 2014
Adiamor is pleased to announce its latest sweepstakes, which will make the winner feel like a queen. Now through September 26, 2014, Adiamor is accepting entries for its jewelry sweepstakes in which one lucky winner will be treated to a $5,000 pair of halo diamond earrings. Because of the design and brilliance of these earrings, the winner will definitely have heads turning as she walks by or enters a room.
The diamond halo earrings are absolutely stunning, combining a bit of elegance with luxury in a single pair of earrings. The certified center stones are surrounded by a ring of smaller, sparkling stones that create a halo around the center round brilliant-cut stone. The total weight of both diamond earrings combined is 1.5 carats.
Those wishing to enter for a chance to win these breathtaking earrings must sign up through the Adiamor jewelry sweepstakes page. A valid email address is required to enter the sweepstakes. Entrants can receive additional entries by referring friends and by sharing the contest on social media networking sites such as Facebook, Twitter, Google+ and Pinterest. Additional entries can also be earned by liking Adiamor on these sites.
This contest is open to all legal residents of the United States of America, and all entrants must be at least 18 years of age at the time they enter the sweepstakes. Online entries will be accepted through September 26, 2014, at 11:59 p.m. Pacific Time. Winners will be selected through a random drawing and notified via email within five days of the winner's selection.
About Adiamor
Adiamor is an online jewelry retailer that specializes in designing and manufacturing unique engagement rings, wedding rings, and diamond jewelry with more than 130,000 GIA certified diamonds to choose from. The fine jewelry artisans at Adiamor are ready to customize and create the jewelry with your perfect style. All jewelry is manufactured in-house at Adiamor's location in the jewelry district of Los Angeles. For more information about the sweepstakes or to see what Adiamor has to offer, visit the company's website at Adiamor.com.