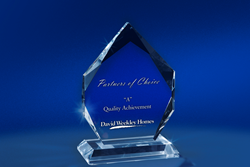 'It is extremely difficult for a company to repeat with this honor for a second and especially for a third year and speaks to Acme's commitment to excellence.' - Bill Justus, vice president of Supply Chain Services for David Weekley Homes
Fort Worth, Texas (PRWEB) August 04, 2014
David Weekley Homes, the largest, privately-held home builder in America, implemented its comprehensive supplier evaluation system and its measurement for world-class excellence, the "Partners of Choice Award" in 2004. The unique evaluation platform allows David Weekley Homes to analyze supplier performance in diverse industries, provide feedback, and recognize those truly outstanding achievers. Under this process Team Members are initally asked to rate each supplier's performance on Quality and Service. Then through a series of discussions, meetings, and coaching calls, David Weekley Homes and its suppliers search for the best way to achieve excellence together. Through this process, David Weekley Homes takes "partnering with its suppliers" to a world-class level. Bill Justus, vice president of Supply Chain Services for David Weekley Homes, implemented the industry-leading evaluation method in order to reduce channel costs, improve service, and provide the highest degree of homeowner satisfaction.
"We've had an outstanding relationship with David Weekley Homes since they started their business in 1976. And we're excited to have received their "A" rating in product quality and service. This award reinforces our company's commitment to our cultural belief of creating Lifetime Customers! said Stan McCarthy, Senior Vice President of Sales for Acme Brick Company. David Weekley Homes "Partners of Choice" program is a testament to their organizations positive attitude and treatment of their partners. And it separates them from many homebuilders with regard to constant improvement and customer service."
"Receiving the "Partners of Choice Award" is the highest compliment we can pay our providers," Justus said. "To attain this award means that over 600 Team Members from every level of our company believe the provider is best in class in delivering its products to us in a timely, efficient, and cost effective manner. You cannot talk your way to a good score. The length and breadth of the program allows only those who are willing to invest in the process to achieve excellence. It is extremely difficult for a company to repeat with this honor for a second and especially for a third year and speaks to Acme's commitment to excellence."
Commenting on the award, Acme President and CEO, Dennis Knautz said, "It is an honor to receive the "A" rating for product quality by David Weekley Homes in 2014. The fact the we have been awarded this distinction for three consecutive years is a direct reflection on the work done by all of our associates - including our production workers, truck drivers, order processing associates and our sales reps. We understand that, to be an outstanding builder that consistently delivers quality homes, Weekley has to rely on dependable products from suppliers who stand behind their products. We believe that Acme's 100-year Homebuyers Guarantee exemplifies our commitment to product quality, while at the same time gives assurance to David Weekly Homes and to their customers that we will stand behind the "The Best Thing to Have Around Your House".
I continue to "tip my hat" to the Weekley organization for developing this evaluation system that provides us with regular feedback throughout the year. Our managers review their reports to identify where we can improve our performance before it becomes a problem. In this manner, we are well positioned to help David Weekley Homes be as successful as they can be."
Acme Brick Company, the largest U.S. brick company, is a member of the Berkshire Hathaway family of companies headed by famed investor Warren Buffett. The company celebrated its 123rd birthday on April 17, 2014. For more information reach Acme Brick at http://www.brick.com. Visit Acme on Facebook at Facebook.com/acmebrickco.
About David Weekley Homes
David Weekley Homes, founded in 1976, is headquartered in Houston and operates in 18 cities across the United States. David Weekley Homes was the first builder in the United States to be awarded the Triple Crown of American Home Building, an honor which includes "America's Best Builder," "National Housing Quality Award" and two-time recipient of "National Builder of the Year." Weekley has also appeared eight times on FORTUNE magazine's "100 Best Companies to Work For®" list. Since inception, David Weekley Homes has closed more than 70,000 homes. For more information about David Weekley Homes, visit the company's web site at http://www.davidweekleyhomes.com.
###