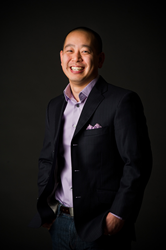 King of Prussia, PA (PRWEB) August 04, 2014
Eugene Lee, Executive Vice President, Managing Director, has been named to the 2014 PharmaVOICE 100, a list of the 100 most inspiring people in the life-science industry.
The PharmaVOICE 100 Top Influencer Issue describes Lee as a person who "cares deeply about delivering appropriate healthcare messages to both HCPs and consumers that can alter their lives for the better. Although much of his work is in data and analytics, including creating innovative tools for measurement and audience targeting, he always searches for innovative solutions that will allow the man on the street to grasp the concept rather than immersing himself in wonk talk."
"Eugene combines his deep knowledge of digital and social media with an infectious enthusiasm for the business that makes him great to work with. He is always willing to consider new ideas and to offer a sound and thoughtful critique. Marcy and I congratulate Eugene on this well-earned honor," Alan Imhoff, CEO News Division and Marcy Holeton, CEO Clinical Division Frontline Medical Communications.
Eugene received several nominations for this honor from colleagues and individuals across the industry. "I'm excited to see Eugene honored as one of PharmaVOICE's 100. It is well-deserved! He's had a dynamic perspective on our industry and its particular relation to digital for many years and, as a result, has been instrumental in the growth of both CMI and HCP marketing as a whole," says Mike Reynolds, Sr. Director of Sales BullentinHealthcare.
"Eugene drives CMI/Compas and our clients forward with his innovative thinking, inquisitive personality, and positive attitude towards life. We have been lucky to have him as a colleague and friend for 20 years, and are happy to see him recognized with this honor," Stan Woodland, Chief Executive Officer, CMI/Compas and previous PharmaVOICE 100 winner.
Lee has become a trusted partner to many of the nation's game-changing pharmaceutical companies, and continues to be a valued mentor to his colleagues. He has helped lead CMI's business growth in many important ways, including new engagement strategies with business intelligence and building deep relationships with valued clients.
Lee is a thought leader who serves on the Board of Directors of The Association of Medical Media and was named a Digital Health Scholar for the Digital Health Coalition.
About CMI/Compas
Well-known as a media planning and buying organization for healthcare clients, sister agencies Communications Media, Inc. (CMI) and Compas, Inc. together form the indispensable strategic marketing partner to the world's game-changers in health, offering guidance at every level of marketing. CMI/Compas focuses on core service offerings of Media, Innovation, Customer Insights, Technology, and Buying. CMI/Compas is laser-focused on helping clients move the promotional needle. CMI/Compas has offices in Philadelphia; King of Prussia, PA; Pennsauken, NJ; and New York. The family of companies is actively recruiting for healthcare marketing jobs via http://www.cmirecruiter.com.