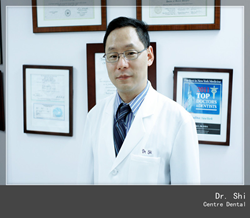 New York, NY (PRWEB) August 04, 2014
New York, NY dentist Dr. John Shi now offers his patients the Chao Pinhole Surgical Technique™, which is an advanced treatment for gum recession. Pinhole surgery is minimally invasive, reducing healing time and the risk of infection for patients. These characteristics are advantageous because receding gums can be a symptom of gum disease, and patients may be better equipped to care for their oral health after a low-risk, less invasive procedure such as pinhole surgery.
To perform pinhole surgery, Dr. Shi makes a tiny opening in the gum tissue that has receded. He then inserts a small instrument through the pinhole opening and loosens the gum tissue until he can gently reposition it, covering the areas that were exposed during recession. Dr. Shi does not need to place any sutures after the procedure, and most patients experience little discomfort or bleeding. Since the procedure is minimally invasive, the risk of complications is low and healing time is typically fast.
There are a few reasons patients can benefit from visiting a New York, NY dentist for treatment for receding gums. Recession can leave the teeth exposed to infection or other damage, and it may also allow teeth to shift in position. Various factors may cause gum recession, including gum disease, aggressive brushing, teeth clenching and grinding, genetic factors, and hormonal imbalances. However, in many cases, recession is an early symptom of gum disease. Since gum disease is associated with tooth loss, bone density loss, and serious health risks such as stroke, Dr. Shi encourages patients with gum recession to schedule a consultation to determine the underlying cause.
Surprisingly, gum recession is not always obvious. Patients may notice tooth pain or sensitivity before they notice changes in the appearance of their gums or tooth length. Sometimes, they may observe that the top of their teeth are a different color or have a notched texture, which often indicates that the cementum, which covers the root, is exposed. In other cases, patients may notice another symptom of gum disease, such as swelling or pain in conjunction with changes in tooth appearance. In all of these situations, patients should seek professional treatment.
Anyone who would like to make an appointment with a New York, NY dentist for gum recession treatment or to learn more about the Chao Pinhole Surgical Technique™ is encouraged to call Dr. Shi's office today.
About the Doctor
Dr. John Shi, a general dentist in New York, NY, focuses on delivering quality dental care in the lower Manhattan area. Dr. Shi is a graduate of Columbia University, with a Doctor of Dental Surgery degree. Dr. Shi prides himself on his willingness to ensure the comfort of every patient. He is a member of many dental associations, and believes in continuing education to provide his patients with the latest technology in dental care.
To learn more about the dental services Dr. Shi offers, please visit his website at http://drshi.com or call (888) 842-7558.