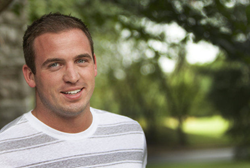 Hershey, PA (PRWEB) August 02, 2014
Brian Osborne, a Season 10 Bachelorette Contestant who vied for Andi Dorfman's heart, will be at the Hershey Medical Center East Campus in Derry Township on Saturday, August 2, for the 2014 Central PA Hydrocephalus Association WALK. Inspired by his hometown neighbor, Matt Kocsis, a senior at Cumberland Valley High School who has endured 93 brain surgeries to treat his hydrocephalus, Osborne will speak at the opening ceremony to kick off the event. He hopes to encourage more people to come out and support the fundraiser, which raises much needed funds to support research into better treatment options and, ultimately, a cure for hydrocephalus. Hydrocephalus is a medical condition that affects over 1 million Americans. Anyone at any age can acquire hydrocephalus, but one to two of every 1,000 babies are born with the condition. There is no cure for hydrocephalus and the only treatment option requires brain surgery, making it the most common reason for brain surgery in children.
Osborne will be available to speak with press between 9:00 – 11:00 a.m. The event is open to the public.
MEDIA: NO RSVP REQUIRED
WHEN: Saturday, August 2, 2014, 8:30 am
WHERE: Hershey Medical Center East Campus, 30 Hope Drive Hershey, PA 17033
CONTACT: Danielle Gutshall: T: (717) 303-9792; Michael Ticzon: T: (856) 366-6521 E: michael(at)hydroassoc(dot)org
To learn more about hydrocephalus, please visit http://www.hydrocephalusconference.org.
For information on the WALK, please visit http://www.hawalk.kintera.org/centralpa.