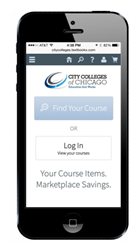 Norwalk, CT (PRWEB) August 05, 2014
Akademos, Inc., a leading provider of integrated online bookstores and marketplaces for educational institutions, announced today the launch of a new store design and mobile-optimized platform that provides a simple, intuitive shopping experience for students.
"Our goal is to give our 130 schools a student experience that is second to none," said John Squires, CEO of Akademos. "As we surveyed the ecommerce sites that students frequent, we found that many were confusing and poorly constructed for mobile. And we know that the majority of students will shop first on their phones. In addition, very few sites use data to aid the shopper by incorporating notices for financial aid or allowing students to save their courses to simplify additional shopping visits."
Akademos rebuilt its student experience from the ground up to:

Enhance the ability of students to quickly find and save their courses, allowing for an easy price comparison of all materials in their desired formats: new, used, marketplace, rental and eBook
Provide a superior shopping experience on mobile devices
Simplify the site to enhance our schools' use of custom colors or graphics to better represent their brands
Introduce helpful data for students while they shop, including available financial aid they can apply to their purchase
Build a robust database of student course data that allows for better student communication and assessment
To learn more about online bookstore service offerings for educational institutions, visit the Akademos website or sign up for the Akademos newsletter.
About Akademos
Akademos offers virtual bookstore services, eLearning solutions, and an innovative textbook marketplace to schools. Its comprehensive supply-chain solution and commitment to responsive personal service make Akademos a leader in providing affordable textbooks and digital learning tools for schools. Students can choose from new, used, rental, and eBook options while schools can reduce costs and increase operating efficiency. Faculty can search, discover, and adopt new texts using the Akademos Textbook Adoption Tool at http://www.adoption.akademos.com. Akademos delivers the right course materials, at affordable prices, on time. Learn more about Akademos' direct-to-students ecommerce platform at http://www.textbookx.com and its offerings to partner schools at http://www.akademos.com.