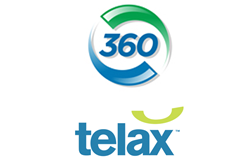 Telax will work closely with 360incentives to identify customer service and agent workflow gaps and propose process improvements to address them.
Toronto, ON (PRWEB) August 05, 2014
Telax, a leader in contact center technology, is pleased to announce that 360incentives is deploying the Telax cloud contact center solution.
360incentives is the leader in the channel & consumer incentive management space. 360 has developed a user friendly yet highly sophisticated SaaS incentive management platform that allows large businesses to manage highly complex incentive promotions in real time allowing them to maximize the effectiveness of their programs while minimizing admin efforts and costs to execute – all the while delivering an unbelievable experience.
360incentives was looking for a cutting edge contact center solution that would complement their global infrastructure. "Our teams in the US & UK collaborate with our team in Canada on a daily basis. It was crucial for us to find a solution that would adapt to our company's operation without sacrificing overall quality and efficiency," says John Davies, Manager, CHB Team & Program Development, 360incentives. "Telax is an ideal business partners for us both from a cultural and operational perspective. Their cloud contact center is a robust solution that can adapt easily to our needs and the team behind the scene is dedicated to enhancing customer experience."
With more than 20 different integrations, Telax's cloud contact center will fully integrate with 360incentives current systems and provide robust real-time metrics which will help the leadership make better decisions. Furthermore, Telax will work closely with 360incentives to identify customer service and agent workflow gaps and propose process improvements to address them.
"We are very excited to have 360incentives coming on-board with us. Their entrepreneurial culture combined with their emphasis on constant innovation aligns perfectly with our core values and we look forward to working with them and transforming their contact center operations to be the best in the industry," says Allister Quinteros, VP of Sales, Telax.
About Telax Hosted Call Center:
Telax Hosted Call Center provides the capabilities to create a world-class customer care and service desk operation. By leveraging cloud computing, Telax delivers an advanced contact center solution with more functionality than traditional hardware at a fraction of the cost. Telax clients get a customizable, easy-to-use solution that includes responsive, full-service support and no long-term contracts. The simplicity delivered by Telax Hosted Call Center enables clients like Best Buy, Johnson & Johnson, CI Investments, Health Canada and the GSA, to provide the best service to their customers, valuable business intelligence to their executives, and a user friendly solution for their agents. The result is a better customer experience today and a better organization tomorrow. And Everybody's Happy. ™
About 360incentives:
360incentives modernizes the way companies execute channel and consumer incentive promotions using technology to enhance the experience. We improve the way our customers engage with their channel partners and consumers to help drive revenue and build brand value. Our mission is driven by commitments to deliver unbelievable experiences for our clients, employees and the world.