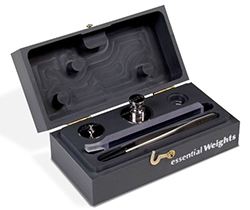 Rice Lake, Wisconsin (PRWEB) August 07, 2014
Rice Lake Weighing Systems introduces Essential Weights™, a new, customized set of three or four stainless steel test weights in a small, durable carrying case. Laboratory professionals no longer need to carry around large cases with unnecessary test weights. The weights are specifically tailored to your precision weighing equipment, maintaining best practices in routine laboratory calibration.
Pharmaceutical and laboratory professionals can benefit from being able to customize configurations ideal for specific calibration, shift test, and sensitivity tests. Equipped with ASTM Class 1, polished stainless steel Type II design weights, Essential Weights maintain the quality standards Rice Lake Weighing Systems upholds. Visit http://www.ricelake.com/essentialweights for more information.
Rice Lake Weighing Systems is a family-owned, ISO 9001 certified corporation based in the United States. Headquarters, metrology laboratory and main manufacturing plant are located in Rice Lake, Wisconsin with support facilities throughout the world including North America, South America, India and the Netherlands.