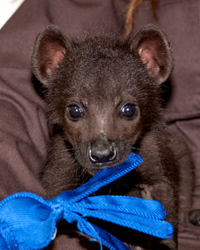 Denver, CO (PRWEB) August 02, 2014
Denver Zoo welcomed the addition of three spotted hyena cubs this week from two locations for needed socialization and to promote healthy breeding for the species. Kelele (keh-LAY-lay), a male born on June 26, arrived from the Buffalo Zoo on July 31. On August 1, two unnamed females born on June 11 arrived from Kapi'yva Exotics, a private facility in Houston, Texas that specializes in the propagation of rare and endangered species. The cubs must first pass a mandatory, month-long quarantine before visitors can see them. All three cubs arrived on flights donated by Frontier Airlines, Denver's hometown airline and the Denver Zoo's official airline sponsor, accompanied by a Denver Zoo keeper and staff member.
"We are delighted to partner with the Zoo to bring these cubs safely to their new home in Denver," says Frontier Vice President of Marketing Tyri Squyres. "We love having our home base here in Denver, and we know they will, too!"
The three cubs all arrived at Denver Zoo through recommendations of the Association of Zoos and Aquariums (AZA) Species Survival Plan (SSP), which ensures healthy populations and genetic diversity among zoo animals. Kelele's mother and both of the female cubs' parents are all from Africa, making their genetics extremely valuable to the North American population as they are unrelated to most other hyenas in U.S. zoos.
"These animals are critical to the survival of spotted hyenas in AZA-accredited zoos and we have been working to bring more hyenas to Denver Zoo for at least two years," says Denver Zoo's Curator of Large Mammals Hollie Colahan. "This is a great example of cooperation between an AZA zoo, a private facility, and Denver Zoo to support the SSP's goals for a sustainable population."
Kelele, named after the Swahili word for "noisy," was born to a mother that historically has not cared for her cubs. Zookeepers have been hand-rearing him and wanted to provide him with a clan with which to socialize. Arrangements were then made to have him join the two female cubs, which had already been scheduled to arrive at Denver Zoo. This is very similar to how hyena cubs grow up in the wild. A mother will place her cub with others of various ages in a communal den. The cubs will then only come out to nurse until they are older.
Long reviled and misrepresented, the spotted hyena is one of the most misunderstood mammals on the planet. They are commonly thought of as unintelligent scavengers. However, ongoing research has shown that spotted hyena are actually one of the most intelligent mammals in the world. In fact, researchers have compared spotted hyena intelligence with that of great-apes, one of humans' closest relatives. Spotted hyenas are also skilled hunters. Although they scavenge carcass remnants left behind by other carnivores, spotted hyenas' cooperative hunting strategies have proven to be some of the most successful in the animal world, even more successful than lions!
Spotted hyenas are the largest of the four species of hyena, with adults standing almost 3-feet-tall at the shoulder. They have yellowish-brown fur with irregular oval spots and a bushy tail along with large ears and eyes and a short erectile mane on their neck. Their jaws are the most powerful in proportion to their size of any mammal.
They are sometimes called "laughing hyenas" due to the unusual "cackle" sound, which is unique to spotted hyena. This is just one of their many communication techniques, including whoops and yells and body postures.
Spotted hyenas are mostly found in the grasslands of sub-Saharan Africa. The International Union for Conservation of Nature (IUCN) classifies spotted hyenas as "least concern," but their numbers are declining due to hunting, trapping and poisoning.
About Denver Zoo:
Denver Zoo is home to 4,000 animals representing more than 600 species and is accredited by the Association of Zoos and Aquariums (AZA). AZA accreditation assures the highest standards of animal care. Denver Zoo is funded in part by the Scientific and Cultural Facilities District (SCFD), a unique funding source serving hundreds of metro Denver arts, culture, and scientific organizations.
A leader in environmental action, Denver Zoo is dedicated to ensuring the safety of the environment in support of all species and is the first U.S. zoo to receive ISO 14001 certification for the entire facility and operations. This international certification ensures the zoo is attaining the highest environmental standards.
Since 1996, Denver Zoo has participated in 594 conservation projects in 62 countries on all seven continents. In 2012 alone, Denver Zoo participated in 98 projects in 18 countries and more than $1 million in funds was spent by the zoo in support of animal conservation in the field.
About Frontier Airlines:
Committed to offering Low Fares Done Right., Frontier offers ultra-low fares with customer choices to more than 85 destinations in the United States, Mexico, Costa Rica, Jamaica and the Dominican Republic. The airline employs nearly 4,000 aviation professionals, operating from its primary hub at Denver International Airport. For in-depth information on Frontier Airlines and to book tickets, visit FlyFrontier.com.
To download our production ready B-Roll, photographs and logos, please visit http://news.flyfrontier.com.