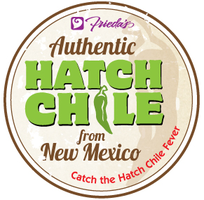 Los Alamitos, CA (PRWEB) August 03, 2014
You've got the #HatchFever, and the only cure is more Hatch Chiles from New Mexico. Hatch Chiles from New Mexico are back in season from August through September. Frieda's Inc. has guaranteed volume and good supply, and the expertise to assist retailers in a Hatch Chile roasting program.
"We have worked with many of our retail partners on their Hatch Chile roasting events in the past few years, and shoppers just love them," said Karen Caplan, president and CEO of Frieda's Inc. "In addition to the 'Chile Heads' who bust the door for them every year, new fans are showing up and curious foodies are stopping by."
Exclusively grown in the Mesilla Valley near Hatch, New Mexico, these green chiles are well loved by "chile heads" for their robust flavor and zesty fragrance as they are roasted over an open flame.
Frieda's will offer four heat levels of Hatch Chiles--mild, medium, hot, and extra hot—in 25 pound cases.
To inquire about Frieda's Hatch Chile Program, please call (714) 826-6100 today.
High resolution images:

About Frieda's Inc.
Frieda's Inc. celebrates more than 50 years of innovation in fresh produce. Founded in 1962 by Frieda Caplan, Frieda's was the first wholesale produce company in the U.S. to be founded, owned, and operated by a woman, and is still a family- and women-owned business today. With the mission of changing the way America eats fruits and vegetables, Frieda's has introduced more than 200 specialty items to U.S. produce departments, including Kiwifruit, Spaghetti Squash, Habanero Peppers, Black Garlic, Sunchokes®, Stokes Purple® Sweet Potato, and many more. Frieda's new programs for 2014 include Power of Purple, with a focus on the nutritional value of purple; Frieda's Flavor Essentials, highlighting and promoting specialty ingredients for everyday cooking; and Eat One Fruit a Day That Scares You, which encourages everyone to #FearNoFruit. Find Frieda's on Facebook, @FriedasProduce, and Friedas.com.