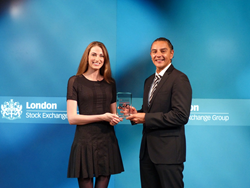 We have always run a tight ship and led the pack, but these past few years we have really set ourselves apart from the competition and are excited about pushing the industry to new bounds.
San Jose, Costa Rica (PRWEB) August 05, 2014
Dr. Alberto Meza, D.D.S., a famed Implantologist and Cosmetic Dentist, received the prestigious Best Cosmetic Dentistry Centre Award (2014) on behalf of his clinic in Costa Rica. The award was presented to Dr. Meza by Jenny Hammond of TheNewEconomy at the London Stock Exchange Studios. He was greeted with great enthusiasm at the ceremony and was obviously overjoyed at being selected.
Meza said, "While I am not accustomed to traveling such long distances to receive an award, it was truly a pleasure and an honor to come to England to do so. The people here have welcomed me and my family with a warm embrace, and I feel like I am at home." The Doctor joked how ironic it was to leave one of the rainiest places on Earth to travel to another one. "I thought I was going to be like a fish out of water leaving Costa Rica, but my handlers have seem to have arranged for everything, including the familiar grey skies of my homeland during rainy season."
When asked about his plans for expansion of his clinic, he said "I have been fortunate to meet with several investors who would like Meza Dental to set up an office here. We have been investigating the European market to identify the most accessible gateway city to open our second clinic, and I must say that London may be just what the Doctor ordered. There are plenty of people who could use our services here, and we would love to help the wonderful people of Great Britain smile their best smiles."
Dr. Meza has intrigued many in Europe with his signature 'Meza Smile' which denotes a high- priced luxury dental restoration at a cost that is accessible to the general public. The NewEconomy is generally very quick to spot early adopters and leaders in innovation, and they seemed to have got it right in selecting this impressive and accomplished Cosmetic Dental clinic.
A son and grandson of Dentists, Dr. Meza has eaten, slept and breathed dentistry his whole life. One notable moment in his career was studying Cosmetic Dentistry at UCLA - with Masters in the business. His natural skills, technical abilities and hard work have helped him gain fame in serving discriminating dental tourists from North America. And his keen eye for details and delivering exceptional results at a reasonable cost has made Dr. Meza and his Team a hot commodity on both sides of the Atlantic.
"I wish we could consider establishing more than just one clinic in Europe," said Meza. "The problem is it takes so long to teach others the things we have learned, discovered and put into practice. And of course, there needs to be the natural skills and desire of the dentists we employ - as those two things we cannot teach. Fortunately, my long-time Associate Dr. Marin has received the same training as me, is able to deliver similar results to our patients, and has dedicated an inordinate amount of time to training our up-and-coming dentists. We believe this should enable us to meet the growing demand for our services.
We have selected a couple of super-star doctors and plan to bring them up to speed on practicing dentistry the 'Meza Way' as fast as possible. But as they say, Rome wasn't built in a day. It takes time to teach even the most experienced doctors the methodologies and tricks of the trade we have developed. It also takes a serious commitment to continually raise our established standards and set the loftiest goals possible on each case. And of course, it takes patience, practice and discipline to consistently deliver impressive smiles, and to avoid settling for less than exceptional results."
He continued, "We have developed an exhaustive list of protocols and I am confident we have the right pieces in place now to take things to even a higher level. Our latest accreditation by the Accreditation Association for Ambulatory Health Care (AAAHC) has helped us examine our business model inside and out, and has positioned us to do things right as we move forward. We have always run a tight ship and led the pack, but these past few years we have really set ourselves apart from the competition and are excited about pushing the industry to new bounds."
About Meza Dental:
Meza Dental is a premiere Cosmetic Dental clinic located in Costa Rica. They boast several UCLA trained Cosmetic Dentists and specialize in full mouth restorations. Thousands of dental tourists, movie stars, models, and discriminating patients have chosen Meza for high-quality dental care at affordable prices. The clinic maintains a Johns Hopkins graduate on-site for quality control.
Contact Howard Siegler, Director of Patient Relations at 1-877-337-6392, or email hsiegler(at)mezadentalcare(dot)com.