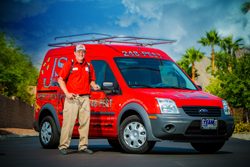 Our area's typically dry climate is good for preventing termite infestations.
(PRWEB) August 03, 2014
JS Pest Control, a leading provider of pest control services for Las Vegas, Henderson, Summerlin and Boulder City, warned today that recent wet weather may encourage termite swarming in coming weeks.
With more rain in the forecast, residents should be particularly cautious about termite infestations, according to the company, which has been protecting Las Vegas homes and businesses since 1999. "Our area's typically dry climate is good for preventing termite infestations," said Jimmy Stephenson, owner of JS Pest Control. "But when we get rainy, wet weather, it really encourages swarming, and termites multiply quickly. The best bet is to get the termites exterminated quickly, before they multiply
and you have extensive – and expensive – damage on your hands."
Rainy weather attracts termites because the insects prefer wet wood to dry wood. When rain soaks into structures and humidity keeps the moisture in, termites will soon begin to swarm.
"Our customers sometimes try to treat the problem themselves, but end up paying more in repairs in the long run because the problem continues to multiply. The best bet is to get professional help as soon as possible," said Stephenson.
That help is easy to find, according to JS Pest Control. The company provides a complete suite of termite control treatments, including services for single-family dwellings or full subdivisions and commercial structures. The skilled technicians at JS Pest Control can also provide a thorough, honest inspection of your home to determine what type of treatment is needed.
ABOUT JS PEST CONTROL
Known in and around town as the best Las Vegas pest control company in the industry, JS Pest Control combines exceptional service with a superior level of expertise. JS Pest Control understands the importance of having a home that is safe, comfortable and pest free, providing its customers with only the most knowledgeable and capable pest control professionals. JS Pest Control's client relationships are an important part of its business and the company aims to provide only the most positive experiences. JS Pest Control believes that your home should be your favorite place, and is dedicated to making sure it stays that way.