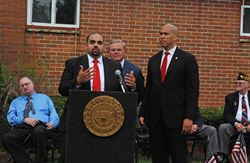 "Whether it is at the VA or at their local hospital, Veterans should receive nothing but the best treatment for all of their medical needs." --GI Go Fund Executive Director Jack Fanous
Nutley, NJ (PRWEB) August 01, 2014
The VA health care system has been in dire need of immediate overhaul for years, with long waiting lines, longer travel times, and an overall lack of basic medical services crippling the department and placing an unreasonable burden on the men and women who depend on it. Organizations and Veteran Advocates have long waited for the time that Congress would take charge on this issue before the lack of adequate care went too far.
But when the problem did in fact go too far, it led Congress to act more swiftly for veterans than ever before.
In the wake of the VA scandal which emerged in late May of this year, Congress has passed the most major change to the VA health care system in decades. The new bill, which passed in both the Senate and House with nearly unanimous votes, would add $17 billion bill in spending to help veterans avoid long waits for health care, hire more doctors and nurses to treat them, and make it easier to fire senior executives at the Veterans Affairs Department. Most notably, the bill allows veterans living 40 miles away from a VA facility to obtain private health care through the VA.
At the VFW Post 493 in Nutley, NJ, the state's two highest legislators, Senators' Robert Menendez and Cory Booker, were joined by the state's largest Veterans' advocate, GI Go Fund Executive Director Jack Fanous, to show their support of the bill's passing and celebrate how the increased funds will help our returning veterans.
Fanous' organization has been one of the most pivotal advocates for these reforms, especially those which give veterans living far distances from VA facilities access to private care.
"Veterans need and deserve access to every form of medical care possible," said Fanous, who spoke at another Press Conference with the Senators in June when these reforms were first introduced. "Whether it is at the VA or at their local hospital, Veterans should receive nothing but the best treatment for all of their medical needs. We have been pushing for years for sweeping reforms to the system for years because, sadly, our veterans have been getting very inadequate care for many years now. We were very glad to see that these reforms were introduced in June, and we are thrilled that more great things are happening for our veterans."
During the press event, Fanous fielded questions from reporters regarding what is needed next for veterans, particularly veteran unemployment. Mr. Fanous stated that while strong efforts to improve veterans' lives have been made for veterans of late, working to ensure that veterans find quality career opportunities must become a top priority for our country.
"We are standing here today because we are proud of what Congress has come together to accomplish for our veterans, but the fact remains that many of them are struggling to provide for their families," Fanous said, with Senators Menendez and Booker looking on. "Without a strong, steady job, veterans will always face enormous difficulties in trying to keep a roof over their heads. We need to come together as a nation and work on not only giving veterans access to job opportunities, but also to train veterans with the skills they need to get the career of their dreams."
The sweeping changes to the VA system were first introduced in early June, with strong support on both sides. With the rare mood of bipartisanship in the air in Washington, legislators in both houses were able to make the modifications they needed in reasonable time in order to pass the legislation cleanly.
The new $17 billion bill includes $10 billion in emergency spending to help veterans who cannot get prompt appointments with VA doctors to obtain outside care; $5 billion to hire doctors, nurses and other medical staff; and about $1.5 billion to lease 27 new clinics across the country. In addition, $2 billion would be used for the development of medical facilities in several states, including New Jersey.