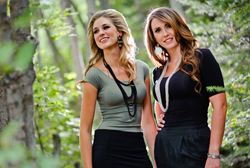 "modbod is dedicated to giving women essential staples they can fall in love with, and...while they're busy falling in love with their clothes, they might as well fall in love with themselves too."
American Fork, UT (PRWEB) August 03, 2014
Amanda Loveland, CEO of modbod, a women owned company, is excited to announce the opening of modbod's first store within the Army and Air Force Exchange Service (AAFES) in McChord Air Force base, located in Seattle, WA, early this August.
Collaborating with the AAFES was the perfect partnership for Loveland's successful fashion company, whose clothes are proudly made with sustainable manufacturing here in the United States. modbod's sophisticated and stylish designs will be making a second storefront debut in March 2015 at the Ft. Hood location in Texas.
"modbod is dedicated to giving women essential staples they can fall in love with, and…while they're busy falling in love with their clothes, they might as well fall in love with themselves too." ~ Amanda Loveland
modbod is a national essential clothing line, manufactured in the U.S.A. For over six years we have provided quality layering pieces to woman all over the United States. We believe every stylish woman should have our layering essentials to support their wardrobe. We worked hard to design styles that stand alone with a great pair of denim, or look smooth and flattering under a business jacket (and everything in between). Dedicated to being the leading company in basics for women, we offer a multitude of colors and styles for our customers to choose from. Every woman deserves to live her best life with sophistication and ease—that's our motto. For more information – visit http://www.modbod.com