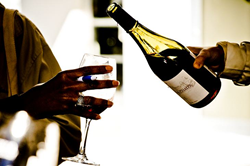 Miramar Beach, FL (PRWEB) August 03, 2014
Preview the award winning wines of Taste of the Beach during Vine to Wine, August 22nd, from 6:00-8:00pm. The event will be held at Seascape Golf, Beach & Tennis Resort in South Walton Beach, FL. The fine dining restaurants of 30A will provide food pairings to taste along with award winning wines. Tickets are on sale now for $55 per person. The Vine to Wine event is just a taste of what's to come.
The 7th Annual "Taste of the Beach – Wine Dine Donate" presents three wine events during the months of October and November. Origins Reserve Tasting will be held at 30A's WaterSound Beach on October 31st from 6:00 to 8:00pm. Tickets are on sale now and include a range of highly allocated and reserve wines as well as gourmet hors d' oeuvres prepared by popular local restaurants.
Taste of the Beach after Dark event will take place at Gulf Place on 30A, October 31st, from 7:00 10:00pm. Guests of the event will be served a combination of local cuisine along with signature cocktails and beverage mixology. Tickets can be purchased online.
Taste of the Beach finale event takes place on the streets of 30A's WaterSound Beach on November 1st, from 1:00 to 4:00pm. The Grand Wine Festival & Art Walk will feature an afternoon of wine, food, art, and music. Guests of the event can explore and sample the latest trends in wine. Aficionados will be available to enlighten and educate those who attend. Over 600 wines will be paired with sample food from local chefs and restaurants. Live music will be performed throughout the event.
Taste of the Beach is an annual event produced by the Walton Area Chamber of Commerce Foundation. This foundation provides community events that encourage economic growth and strength to our community. Garrett Realty Services, Inc. promotes these events that encourage an environment in which businesses can prosper while maintaining the highest quality of service for the Beaches of South Walton. Visit our website at http://www.garrettrealty.com/area/events for details to all area events.