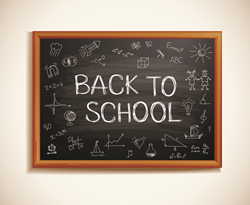 Shifting from summer to school is an anxious time for parents and kids; family communications is vital to ease jitters and set a healthy plan in motion.
New York, New York (PRWEB) August 04, 2014
As calendars turn into August, back-to-school beckons to millions of families nationwide, raising stress levels with increased activities and jitters as schools and colleges welcome record numbers of students this fall.
August is one of the busiest and most stressful times of the year for U.S. families (parents and kids) because of commitments with end-of-summer events, last minute getaways in addition to back-to-school checklists, including shopping for "the right" supplies and clothes, start-up of extra-curricular activities, and too the emotional anxiety that often comes with changes with sleep times, getting up earlier, homework, new teachers and friends. Dr. Nina Radcliff, practicing physician, national medical and health broadcast reporter and author of syndicated wellness education tips titled, "What You Need To Know," helps families take action now to help manage the stress and plan for an A+ start to this school year.
Dr. Nina's What You Need to Know: To Reduce Stress and Plan a Healthy Transition
1.) Back-to-School Relief Starts With Communications at Home: Schedule a Family Meeting
At the top of the list to ease end-of-summer and back-to-school pressures is for parents and kids to meet together on this subject and talk. Plan a family meeting this week where everyone can share their thoughts and concerns on the upcoming transition back-to-school. Whether entering preschool or K through college, parents will be able to hear concerns and pick-up cues of any related worries or activities that need to be addressed. Keep the tone fun with everyone interacting with a calendar that will not only circle back-to-school and related activities, but also mark pleasurable events at school, including upcoming breaks for Thanksgiving and Christmas.
– Communication is vital and as you move forward, keep everyone involved by continuing regular discussions addressing the back-to-school agenda of: needed supplies; school clothes; dress codes; packing backpacks; sleep hygiene; upcoming appointments (to visit school, doctors, shopping); extra-curricular activities and safety; homework zones; and planning healthy routines (including eating, daily exercise, sleeping, and insights to help stop the spread of germs).
2.) Planning Ahead is Key: Vision Checks, Seasonal Flu Shots/Immunizations, Physicals
Schools require health information every year for entering students and as a result, physician offices get extremely booked during back-to-school time. Schedule appointments for annual physicals, vaccinations and vision tests sooner rather than later. If there are any medications involved during school hours, it is a good time to help youngsters to understand what the school policy is for administering medications. Oftentimes, the school's website will provide good insight about health policies and procedures.
– Schools look at vaccination history since birth. Talk with a physician to insure vaccinations are current; immunizations can help to protect children from potentially harmful diseases
– Healthy vision is important to all aspects of student's lives: schoolwork, extra-curricular activities, confidence, and safety. Some doctors recommended eye exams every 2 years if no vision correction is required with yearly exams for those with eyeglasses or contact lenses. Also, some physicians may recommend a routine yearly eye exam because undetected vision problems can set a student up for possible learning disabilities, bad study habits, and poor grades.
3.) Healthy Eat/ Sleep/Exercise Routines: For Stronger Immune Systems & Overall Balance
Each day, at least an hour of activity (movement, play or exercise), a healthy diet (steer away from junk food, don't skip breakfast and reach for more fruit and veggies); and lots of sleep (about 9-10 hours) will go a long way in supporting immune systems and overall well-being. Research shows that these healthy habits can help to defend against illness and support overall balance more than those that are lacking sleep or have unhealthy diets and sedentary lifestyles. Plan to start good back-to-school habits a week before to help everyone benefit from the rewards and make a smooth transition.
– Elementary school-aged children need 10 hours of sleep, while middle school through high school-aged need 9 1/4 hours (college students should shoot for 8 hours).
– Lots of activities want to carve into sleep, but maintaining good "sleep hygiene" is paramount to calming and setting the mood to fall asleep (and stay asleep) in order to be alert and at peak performance during the day.
– Encourage relaxing and soothing behaviors (have the entire family power down televisions, put away smartphones, tablets, etc.) to decompress and engage in calming activities such as reading, quiet relaxing or listening to music.
– Start every day with a healthy breakfast (staying away from sugary doughnut type of foods). It has been shown that students that eat a healthy breakfast perform better in the classroom because they have better concentration, problem-solving skills, endurance, hand-eye coordination and increased strength for tasks.
– Lunchtime requires some planning and creativity to ensure balanced meals that include more fruit, more veggies and proteins.
– Keep students involved in the selection process (grocery store visits and in the kitchen) as it is an investment that reaps profitable dividends while learning about wise choices in the process.
4.) Hands and Fingers Can Be Weapons of Mass Infection: Help Defend Against Illness
As families enjoy almost illness-free summers, back-to-school brings to mind battles of colds, flu, strep throat as well as other pesky ailments. Most common school ailments are viruses and they are passed around at schools. In fact, germs lurk everywhere, we just cannot see them and according to the Centers for Disease Control and Prevention, most kids experience 6 to 12 illnesses each year ranging from mild to severe. The research shows that it is beneficial to practice good health etiquette in order to help protect against the spread of germs. Younger students need reminders about how to react when the urge to cough or sneeze arises by covering the mouth or nose and to wash hands afterwards. Always follow the school's guidelines as to when sick kids should be kept home.
– While not all inclusive, as a general rule a temperature over 100.5, a sudden rash, severe cough, sore throat, diarrhea or vomiting, stay home and consult a doctor
– A wash refresher: Wet hands; soap; rub hands vigorously together (don't forget fingernails); rub 20 seconds (sing "Happy Birthday" twice); rinse under running water; and if possible, use a paper towel to turn the faucet off and open the door
– Although soap and water have been shown to better sabotage the intentions of most germs, antibacterial wipes are a good consideration for convenience at school
5. Safety: At School, in Neighborhoods and at Home
Safety can range from anxiousness with starting the new school year to backpacks, school traffic, bus loading, social networking to bullying. The Academy of American Pediatrics website is a good safety resource addressing each in great detail for back-to-school. A quick list for review while gathering more specific information:
– Backpacks should be used that have wide, padded shoulder straps and a padded back. Keep it light by using all of its compartments and by packing heavier items closest to the center of the back (backpacks should never weigh more than 10 to 20 percent of the student's body weight and should always be carried with both shoulder straps)
– Younger children should always walk to school with an adult – as they get older, it may be acceptable to walk by themselves, but a buddy system is always preferable
– Identify a safe route with intersections that have safety guards even if it means a slightly longer walk (review the route beforehand) – and provide a reminder to never push, shove, or chase near the street
– While it has been said before, it bears repeating to provide younger students with reminders to never take rides (gifts or food) from strangers or anyone not on the approved list that has been discussed at home
– When riding a bus, review the need to arrive early, stay out of the street, take a seat, and always stay seated quietly (with arms and hands inside the bus) until the bus comes to a safe stop
– For students that ride bikes to school, ensure they wear a helmet (and appropriate gear) that meets safety standards; research indicates that a helmet can reduce the risk of head injury by up to 85 percent.
– For college bound students, it is important to be familiar with the area and have good support systems to help navigate around campus (as well with new high school drivers); both may benefit with a gentle reminder to leave earlier
– Most colleges today offer safety escorts during evening hours – students need to know how to contact the college safety department and become familiar with the services provided
– As a community it is important to watch out for students at intersections, driveways and keep an eye out in our neighborhoods
– Ensure school bound students have appropriate understandings about contact information including the contact information of another trusted, designated (approved) adult, as well as a clear understanding how to call 911 for emergencies
– Review understandings about bullying including what it is, what to do (including saying stop and walking away) and that if it does not stop, report it to a school teacher or administrator as well as always share bullying incidents with mom and dad (that day)
"Whether students are starting kindergarten or entering college – communication is vital in the transition and planning. Shifting from summer to school is a time of jitters with anticipation of what is ahead," stated Dr. Nina Radcliff. "Refresh positive memories on the way for everyone involved and take time in this transition to enjoy new adventures and maintain a healthy balance amongst all the activities" she added.
About NINA RADCLIFF, MD:
Dr. Nina Radcliff is a practicing physician dedicated to helping people live healthier lives and gain wise understandings about health and wellness concerns facing our nation. A Board Certified Anesthesiologist and member of the American Society of Anesthesiologists where she serves on committees for Young Physicians and Communications, she an author and often called upon by national, regional, and local media to provide medical expertise on breaking medical news and topics impacting lives, today. In addition, she is a regular medical contributor for newspapers and magazines with health and wellness education: "Dr. Nina's What You Need to Know."