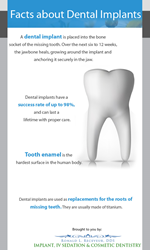 'While most patients might not think getting a new light is a big deal, it is,' Dr. Receveur said. 'Light can influence many things when we are looking in a patient's mouth.'
New Albany, IN (PRWEB) August 12, 2014
New Albany cosmetic dentist Dr. Ronald Receveur has added yet another piece of state-of-the-art equipment to his dental implant clinic.
Dr. Receveur last month added a Pelton & Crane Helios 3000 LED Dental Light to his second surgical suite, which opened in March.
"While most patients might not think getting a new light is a big deal, it is," Dr. Receveur said. "Light can influence many things when we are looking in a patient's mouth."
For instance, the Helios 3000 light can broadcast light at different "temperatures," which allows Dr. Receveur to better match the shade of a patient's teeth.
The Helios 3000 can also remove all blue light from the spectrum, making sure that procedures that are cured with blue light do not do so prematurely.
And the new light is designed to shine more consistent light in a patient's mouth and less in his or her eyes. That means Dr. Receveur will be able to see better as he strives to protect his patients' oral health.
Besides the new light, the new surgical suite includes a Midmark 641 Barrier-Free power procedures chair, among the best on the market.
This year Dr. Receveur has expanded his office at 819 Mount Tabor Rd. in New Albany to include a new in-house dental lab and he has added a Galileos 3D CT Scan imager, so patients can receive all their care in one place.
Dr. Receveur's New Albany cosmetic dental clinic, which is across the Ohio River from Louisville, KY, is one of only about 500 offices in the country, and the only practice in Southern Indiana using a Galileos 3D CAT scanner to diagnose and treat patients.
Dr. Receveur offers Louisville cosmetic dentistry services and general dentistry such as teeth cleanings, X-rays, fillings, extractions, root canals, crowns, teeth whitening and veneers.
Dr. Receveur also is an expert in more advanced implant dentistry like All on Four dental implants, All on Six dental implants, mini dental implants, dental implants in one day, dental implants in one hour, bone grafting and sinus lifts, all with IV sedation dentistry.
Dr. Receveur offers a five-year warranty on all cosmetic and prosthetic work.
Dr. Receveur, a New Albany native, has been the family dentist of choice for Southern Indiana and Louisville since 1981.
Dr. Receveur was born with a partial cleft palate that left him with a missing front tooth. As a child he "wore an awful removable partial." As a teenager, Dr. Receveur received a permanent bridge, but his dentist destroyed one of his healthy, natural teeth in the process. These dental experiences helped drive him to find better dental solutions for his patients.
Dr. Receveur graduated from Indiana University Southeast with honors in chemistry, after which he earned his doctorate in Dental Surgery from the Indiana University School of Dentistry.
Dr. Receveur has attended more than 5,000 hours of postgraduate training and even gone to Portugal to study with the best dentists in the world. He has been awarded numerous advanced certifications in Implant, Sedation, Comprehensive, Restorative and Aesthetic dentistry so he may provide the most current dental techniques to his Louisville and New Albany dental patients.
Those looking for dental implants in one day and other cosmetic and reconstructive dentistry should go to NewAlbanyImplants.com for more information.