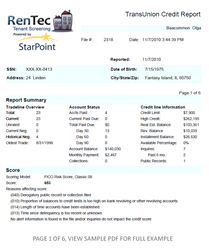 It is all about making the day to day chores of property managers easier
Grants Pass, OR (PRWEB) August 05, 2014
Rentec Direct maker of leading property management software maintains their headquarters and all of their staff on the beautiful West Coast in Grants Pass, Oregon. They do however recognize that this may, and is not the case for all subscribers. Rentec has now updated the system to allow selection of a timezone. Visit Settings, Program Defaults. Set the desired time-zone by selecting the new "Preferred Time Zone" option and Save. This setting will be most noticable on elements within the application which record the time.
This includes:
Recorded emails
SMS messages
Logged history events
When asked why Rentec Direct puts so much effort into customer requests and improving there software? Nathan Miller, President of Rentec Direct replied, "It is all about making the day to day chores of property managers easier."
To learn more about Rentec Direct or to obtain a 30-day full featured free trial of the software, visit http://www.rentecdirect.com/
About Rentec Direct
Rentec Direct provides cloud based rental software solutions for property managers and landlords. Other popular solutions offered by Rentec include tenant ACH payment processing, tenant screening, and online syndication of vacancies to more than twenty popular websites.