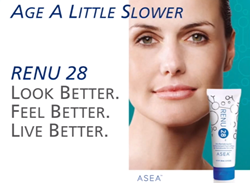 Clinical testing showed an improvement in overall wrinkles of 23% and an improvement in facial skin texture of 22%, smoothness 23%, skin moisture 11%
Boise, ID (PRWEB) August 12, 2014
Trish Schwenkler says: "What makes RENU 28 unique and effective are the concentrated Redox Signaling molecules that are in the gel so let's learn a bit about this. The following is from the manufacturers literature (ASEA, LLC,).:
"Redox Signaling molecules are naturally created within every cell of the body. They are vital to your immune system and to the cellular healing mechanisms of your body. As you age, your cells make fewer and fewer of these molecules. In order to keep the cellular mechanisms of your body performing properly, it is essential that you supplement and replenish Redox Signaling molecules. The only way that you can do that is through ASEA—the world's only source for Redox Signaling molecules."
Trish Schwenkler knows that "Many of us are non-techies who don't want to hear about molecules and such and they want to get right to the results- what will these molecules do for them? So to see the clinical testing and user results Watch the brief video at the bottom of this page. For me personally, I haven't worn a two piece bathing suit since after my first child was born. I just couldn't get rid of those stretch marks but things are different since using the RENU 28 and I am just totally thrilled. And so is my husband."
Why the name RENU 28? "Every 28 days your skin goes through an important natural renewal process that allows new healthy cells to emerge… As you age, the time it takes to complete this cycle increases.
RENU 28 encourages the efficiency and resiliency of your skin cell reproduction to augment/improve your body's natural efforts to keep your skin healthy."
RENU 28 has been clinically proven to reduce wrinkles by 23% in just 28 days, according to a 2014 Dermatest research study.
"Not only have people been seeing great results with wrinkles and anti-aging, but it's an all-in-one product," says Trish Schwenkler. "Since RENU 28's working ingredient is these molecules that provide support on a cellular level it's exciting to see the extent of skin conditions positively affected."
More and more people are alert to chemicals that are used in personal care products can cause problems. RENU 28 is made from just four ingredients, all completely non-toxic. The Redox Signaling molecules have been tested extensively and shown to be perfectly safe and very soothing for the body.
"It's revolutionary," says Trish Schwenkler, "RENU 28 is now an integral piece of my daily routine and I am also very happy about the low pricing for this product."
For more information about the new RENU 28 and ASEA, visit OurGlobalHomeBusiness.com.
Trish Schwenkler, president and co-owner of OurGlobalHomeBusiness Boise, ID, has been an expert in the wellness field for over 25 years. Trish is an Independent Associate of ASEA, LLC
ASEA, LLC is the world's one and only manufacturer of Redox Signaling molecule products and is located in Salt Lake City, UT.