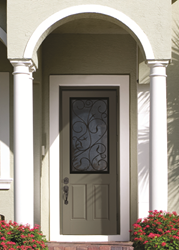 Maumee, Ohio (PRWEB) August 06, 2014
During Door Do-Over Week(August 3-9, 2014), experts at Therma-Tru Corp. invited homeowners to slam their doors, and test out how solidly built the doors on the home should be.
Ralph Kramden used to do it all the time to Ed Norton in the old television show, The Honeymooners. Jack Tripper on Three's Company had it happen to him so many times, it's amazing he didn't get a broken nose. It's the famous door slam.
"Slamming doors in people's faces has always been a popular way to get a few laughs on television shows like Seinfeld and Get Smart," says Mark Clement, professional contractor and host of the home improvement radio show MyFixItUpLife. "There are some great movie scenes where doors almost rattle off the hinges as they're slammed in Home Alone and A Doll's House. But, when it comes to your own front door, you want to make sure you have one that can stand up to the force of repeated hard closings over many years of use."
How does a homeowner know if their door is "slammable" for all kinds of situations? Look to the experts. According to durability guidelines issued by the Window and Door Manufacturers Association (WDMA) and the American Architectural Manufacturers Association (AAMA), residential entry doors must pass a testing standard of 25,000 door slams before they can be certified. The WDMA/AAMA Cycle/Slam Test Standard helps homeowners know that the entry doors they purchase can stand up to long-term use.
Slam-Dunk Testing Results
Not satisfied with meeting just the normal residential door testing standard, professional door testers at Therma-Tru Corp. exceed the 25,000 door-slam tests by ten times. The company's fiberglass and steel opaque entryway doors are slammed for 250,000 cycles, providing valuable assurance to homeowners that the Therma-Tru® doors they choose can withstand years of door slams and physical endurance.
"We run our door slam tests for 24 hours a day for nine days straight with an automated slam test machine," says Steve Jasperson, code and regulatory compliance manager with Therma-Tru Corp. "This machine simulates the force with which a person might slam the door in the face of an unwanted house guest -- 250,000 times!"
In addition to making sure that the door structure itself holds up to the massive testing experience, Therma-Tru slam tests each of its decorative glass designs 125,000 times to assure the glass does not crack. The Therma-Tru engineers also examine the caming that holds the decorative glass inserts in the door to make sure it stays together and to assure that the framing around the door glass does not break or come loose.
"The benefit of the additional testing is peace-of-mind for the homeowner," says Jasperson. "Because we exceed the residential testing standard for durability, homeowners can expect their Therma-Tru door system to provide them with years of trouble-free use."
According to Clement, the door slam results for Therma-Tru fiberglass and steel entryway doors are exactly what homeowners should be looking for when investing in a new front door. "Homeowners who take the time to research products for their homes find that they end up making smarter investments that provide them with years of service," says Clement. "In this case, Therma-Tru is testing for a worst case scenario with very abusive and heavily-used door conditions.
"Knowing that these fiberglass and steel doors can pass these tough tests tells me that they'll do great in a home setting. Specifically, the slam-ability of the doors tell me they can deal with the day-to-day closings in regular life, and also with the daily challenges of everything from teenagers slamming the doors to hassled homeowners juggling keys, groceries, and the mail when entering the home. These doors are ready for real life use for the long haul."
About Therma-Tru:
Therma-Tru is the nation's leading manufacturer and most preferred brand of entryway doors. Founded in 1962, Therma-Tru pioneered the fiberglass entry door industry, and today offers a complete portfolio of entry and patio door system solutions, including decorative glass doorlites, sidelites and transoms, and door components. The company also offers low-maintenance Fypon® urethane and PVC products. Headquartered in Maumee, Ohio, Therma-Tru is part of leading consumer brands company Fortune Brands Home & Security. (NYSE: FBHS). For more information, call (800) 537-8827.