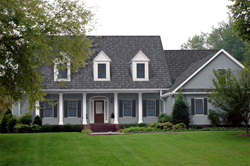 Maumee, Ohio (PRWEB) August 08, 2014
What would make a homeowner fall in love with their front door? Perhaps a fresh coat of paint, new hardware or a complete replacement. As part of Door Do-Over Week(August 3-9, 2014), Therma-Tru Corp. reached out to several experts for their insights on how homeowners can embrace their entryways.
Colorful Doors
"The color chosen for the front door may seem like a small detail, but it can impact the overall appearance of a home," says Kate Smith, president of Sensational Color. "The front entrance welcomes guests and conveys the warmth, happiness, and comfort that fill the inside of a home. That's why it's important for homeowners to really love their entry door."
Smith, who has authored the e-book, FRESH Color Schemes for Your Home Exterior, suggests that front door colors should reflect the personality of the home's owners.
"Selecting a door color truly reflects a person's style," says Smith. "Trendy colors like teal, fuchsia or orange signal an optimistic attitude and energetic personality. Beige, tan, and earthy colors often are embraced by more grounded, unpretentious people, while homeowners selecting bold reds and bright blues for their entry doors are traditional with a flair for amusing friends and family."
Investing in a New Door
For many homeowners, it's "out with the old and in with the new" when it come to their front doors. Tom Kraeutler, author of My Home, My Money Pit: Your Guide to Every Home Improvement Adventure, replaced his home's 25-year old traditional steel doors with fiberglass doors several years ago.
"Technology in fiberglass doors has jumped light years since we had our old steel doors installed and we were ready to upgrade," says Kraeutler. "The uncanny wood-like appearance of fiberglass doors combined with their energy efficiency and security benefits are incredible.
"For our family, we love the vented sidelite in our new door and use it all the time. It enables us to have a 'screen door' in the front of the home for added ventilation without obstructing the beauty of the front door."
In New Hampshire where winters can be fierce, builder Tim Carter decided to install a fiberglass door because he wanted a door and frame that would not rot or twist. "I really love knowing that my new door will look good for many years and add value to my home should we decide to sell it," says Carter, co-founder of AsktheBuilder.com. "When my neighbors mention my front door, the first words out of my mouth are, 'you want fiberglass, you want low maintenance, and you want energy efficiency.' My experience is that you get all of these in one package with Therma-Tru."
Replacing worn-out older doors is a common reason given by many homeowners for selecting a new door. Time, weather, and daily use have made them fall "out of love" with their current door and they need a door do-over.
"We replaced our 100-year-old house's original door for several reasons," says contractor Mark Clement, co-host of MyFixitUpLife radio show. "It was several degrees colder near our old door in winter months, and several degrees warmer in summer. Near the inside of the door, it was also windy -- yes, windy. We wanted a new door with energy efficiency features married with a new look and color for both our interior and exterior space.
"Our new fiberglass door saves us money every single day. Plus, it's ridiculously quiet. Cars that we could hear rumble by before are silent now. Plus, we're in love with the overall new look the door has brought to our home."
Payback from Your Door
The decision to replace a home's entry door can be both an emotional and financial decision for homeowners. The good news is that, according to the 2014 Cost Vs. Value Study conducted by Remodeling magazine*, homeowners can recoup about 70.8 percent of the investment cost when adding a fiberglass door to the home as a midrange project.
"Whether it's a woodgrain entry door or a colorfully painted door, I tell people to 'go for it' when considering a replacement door," says Kraeutler. "The fiberglass door we invested in has helped transform our home's exterior. This door never gets stuck or creaks."
About Therma-Tru:
Therma-Tru is the leading entry door brand most preferred by builders and remodelers. Founded in 1962, Therma-Tru pioneered the fiberglass entry door industry, and today offers a complete portfolio of entry and patio door system solutions, including decorative glass doorlites, sidelites and transoms, and door components. The company also offers low-maintenance Fypon® urethane and PVC products. Headquartered in Maumee, Ohio, Therma-Tru is part of Fortune Brands Home & Security, Inc. (NYSE: FBHS). For more information and product warranty details, call (800) 537-8827.