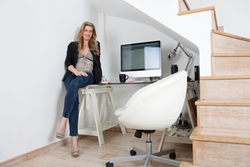 Smaller properties allow owners to trim their expenses in various ways.
Chicago, IL (PRWEB) August 03, 2014
Many first-time home buyers are trading up from cramped apartments and looking forward to the additional space they get when purchasing a house.
Even among some buyers who are looking into their second home, bigger tends to be seen as better. The desire to get more space is understandable, as there is extra room for storage and additional square footage for an expanding family. However, The Federal Savings Bank suggests that there are some benefits to opting for a smaller property, such as:
Financial Savings
The home buying process is expensive, and most consumers are looking for any means to cut costs before and after the transaction are closed. Smaller properties allow owners to trim their expenses in various ways:

More affordable homes: Given that there are fewer square feet, the property is typically cheaper than larger alternatives. This means a lower down payment and less total interest paid over the life of the mortgage.
Less expensive maintenance: Over time, there are many home repairs that need to be made. Smaller homes require fewer materials for common issues such as roof repairs, which means homeowners can spend less. Additionally, costs for cleaning materials and other household items related to maintenance can be reduced.
Tailored spending: Without a wealth of space, consumers can more often avoid the temptation to spend frivolously, as homeowners won't have room for a curio cabinet that they don't need. This also helps ensure that items that are purchased are necessities that will get regular use.
Energy savings: Less house means that homeowners won't need to leave the heat and air conditioning running as long.
More Free Time
Many buyers are straying away from properties that demand a lot of maintenance. With a larger house, this may not be an easy goal to accomplish. Every additional square foot is another space to clean and repair at some point. On a day off from work, spending several hours cleaning up and fixing problems is likely not ideal.
Smaller properties require less time for a thorough once-over. This also mean that decorating the new home can be less of a hassle, as there are fewer rooms to paint and furnish.
For information about first-time home buyer programs that can assist you with a compact home purchase, contact The Federal Savings Bank, a veteran owned bank.