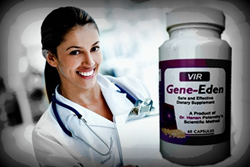 We recommend that individuals infected with a herpesvirus take Novirin or Gene-Eden-VIR – Greg Bennett, CBCD
Rochester, NY (PRWEB) August 05, 2014
"Infected with a herpes virus (such as HSV-1 or HSV-2)? The CBCD recommends taking Novirin or Gene-Eden-VIR." - Greg Bennett, CBCD
Herpesviruses, and other viruses, can cause complete and permanent deafness. According to the journal Neurology, "Sudden sensorineural hearing loss (is) associated with herpes simplex virus type 1 infection." (See Neurology, from February 2001) (2) In another study, Dr. Cohen and colleagues wrote that "Certain viral infections can directly damage inner ear structures, others can induce inflammatory responses which then cause this damage, and still others can increase susceptibility or bacterial or fungal infection, leading to hearing loss." (1) Dr. Cohen is from the New York University School of Medicine.
Click to learn more about herpesvirus symptoms.
The Center for the Biology of Chronic Disease (CBCD) recommends that individuals infected with a herpesvirus (HSV-1, HSV-2, CMV, EBV, or VZV) take Novirin or Gene-Eden-VIR. The formula of these natural antiviral products was tested by Hanan Polansky and Edan Itzkovitz from the CBCD in two clinical studies that followed FDA guidelines. The studies showed that the Novirin and Gene-Eden-VIR formula is effective against viruses, such as HSV-1, HSV-2, EBV, CMV, HBV, and many more. The clinical studies were published in the peer reviewed, medical journal Pharmacology & Pharmacy, the first, in a special edition on Advances in Antiviral Drugs. Study authors wrote that, "individuals infected with HSV (and other herpesviruses) … reported a safe decrease in their symptoms following treatment with Gene-Eden-VIR." (3) The study authors also wrote that "we observed a statistically significant decrease in the severity, duration, and frequency of symptoms." (3)
Both products can be ordered online on the Novirin and Gene-Eden-VIR websites.
Novirin and Gene-Eden-VIR are natural antiviral dietary supplements. Their formula contains five natural ingredients: Selenium, Camellia Sinesis Extract, Quercetin, Cinnamomum Extract, and Licorice Extract. The first ingredient is a trace element, and the other four are plant extracts. Each ingredient and its dose was chosen through a scientific approach. Scientists at polyDNA, the company that invented and patented the formula, scanned thousands of scientific and medical papers published in various medical and scientific journals, and identified the safest and most effective natural ingredients against latent viruses. To date, Novirin and Gene-Eden-VIR are the only natural antiviral products on the market with published clinical studies that support their claims.
"Sudden hearing loss (SHL) is defined as greater than 30 dB hearing reduction, over at least three contiguous frequencies, occurring over a period of 72 hours or less. Some patients describe that the hearing loss was noticed instantaneously in the morning and others report that it rapidly developed over a period of hours or days. The severity of the hearing loss however varies from one patient to another and only one ear is usually affected." (See American-Hearing.org, last updated October 2012) (4) "Typically, virus-induced hearing loss is sensorineural (a type of hearing loss in which the root cause lies in the vestibulocochlear nerve (cranial nerve VIII), the inner ear, or central processing centers of the brain), although conductive and mixed hearing losses can be seen following infection with certain viruses." (1)
What treatments are available for herpes infections?
"Two types of antiviral treatments against HSV are available: topical and oral. The treatments include penciclovir, acyclovir, famciclovir, and valaciclovir. However, their effectiveness is limited. For instance, a meta-analysis of five placebo-controlled and two dose comparison studies evaluated the effect of aciclovir, famciclovir or valaciclovir on symptoms. The meta-analysis showed that oral antiviral therapy decreases the duration and the associated pain of an outbreak by merely one day." (See Pharmacology & Pharmacy from September 2013) (3). There are also natural antiviral products that studies show to be safe and effective in reducing herpes symptoms. Two of these products are Novirin and Gene-Eden-VIR.
"We recommend that individuals infected with a herpesvirus take Novirin or Gene-Eden-VIR" – Greg Bennett, CBCD
Individuals interested in viewing published studies on the formula of Novirin and Gene-Eden-VIR can go here, http://cbcd.net/Gene-Eden-VIR-Clinical-Study.php and http://cbcd.net/Gene-Eden-VIR-Decreases-Fatigue-Clinical-Study.php.
All orders of these products are completely confidential, and no information is shared or sold to any third party. Privacy is assured.
References:
(1) Cohen BE1, Durstenfeld A2, Roehm PC3. Viral Causes of Hearing Loss: A Review for Hearing Health Professionals. Trends Hear. 2014 Jul 29;18
http://www.ncbi.nlm.nih.gov/pubmed/25080364
(2) Rabinstein A1, Jerry J, Saraf-Lavi E, Sklar E, Bradley WG. Sudden sensorineural hearing loss associated with herpes simplex virus type 1 infection. Neurology. 2001 Feb 27;56(4):571-2.
http://www.ncbi.nlm.nih.gov/pubmed/11222814
(3) Polansky, H. Itzkovitz, E. Gene-Eden-VIR Is Antiviral: Results of a Post Marketing Clinical Study. Published in September 2013. cbcd.net/Gene-Eden-VIR-Clinical-Study.php
(4) American Hearing Research Foundation - American-Hearing.org, last updated October 2012.
american-hearing.org/disorders/sudden-hearing-loss/#causes