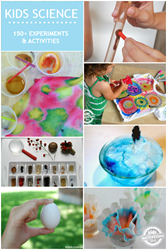 Make mud magnetic this week.
Dallas, TX (PRWEB) August 03, 2014
Science for kids is fun. Amazing science activities and things every teacher needs have been released on Kids Activities Blog. Discover and explore the wonderful world of science together with the kids at home.
Kids like to explore and experiment. Over 150 science experiments have been published for kids of all ages. The amazing experiments include making mud magnetic, using cabbage to teach about the pH value, and teaching about the science of food.
Teaching kids safely about fire and creating naked eggs will amaze and teach the kids life long lessons. Surface tension can be explored with a water drop, life cycles can be studied with a pumpkin, and density can be taught with a variety of colorful liquids that can be found in the kitchen.
Let older kids dissect a bean to study nature and let younger kids learn with a fun dancing raisin project. Prism projects and all kinds of colorful activities will teach about light and color. The list is endless.
Back to school is just around the corner. Things every teacher needs include a whole lot of dry erase markers, a dull tone hand bell, an oversized tote bag, and a cart organizer.
Get the kids attention with fun hand pointers and with answer buzzers. The buzzers can add a bit of fun competition to an otherwise monotonous review. Other items include a giant chart ring set and cart tote on wheels.
For detailed instructions and to get additional fun ideas, check out Kids Activities Blog this week. Come get inspired to have a blast exploring science this month.
About Kids Activities Blog
Kids Activities Blog is a website created by two moms (who collectively have 9 children), Holly Homer and Rachel Miller. Their new book was published this spring by Page Street, 101 Kids Activities That Are the Bestest, Funnest Ever! Kids Activities Blog is an interactive website that publishes fun things to do with kids twice a day. It is an amazing resource for moms, dads, grandparents, caregivers and teachers to find kid-friendly activities that create memories and sneak learning into the fun.