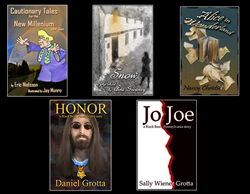 Pixel Hall Press's focus is on discovering literary gems and great stories by gifted writers that might have otherwise been overlooked.
(PRWEB) August 05, 2014
The search for something great to read read isn't seasonal. When doesn't a reader look for that one perfect story to carry her or him away? But summer days on the beach, quiet evenings on the patio, or long plane/train/car rides to someplace else... book lovers know those are the times and places that demand to be filled with the kind of enchantment that only a wonderful story can weave. Here are Pixel Hall Press's recommendations for books that will take you away, even if the furthest you're planning to travel is your own backyard.
"Snow" by Aine Greaney: Poignant, lyrical, charming, and thoroughly Irish.
Set in a one-street small town in the Irish midlands, "Snow" is a stylish portrait of Dolores, a young expatriate Irish woman who is suddenly summoned home from America to take care of her estranged and sick father. In her childhood home, Dolores wrestles with the push and pull between her new American life and her past life in Ireland. As she nurses her father back to health, she is beset by memories and caught between family loyalties and her own desires. A short story eBook.
"Alice in Wonderland" by Nancy Christie: Brilliant, disturbing, and exquisitely written
When life is unbearable, where can one go to escape? For Alice, constrained by circumstances and unwanted obligations, books transport her to imagined worlds beyond her own, nourishing her spirit -- and her body. But what will Alice do when there are no more pages to devour and reality reclaims full dominion? An eBook short story from the author of the critically acclaimed short story "Annabelle," and of the short story collection "Traveling Left of Center and Other Stories," which will be published September 9th.
"Honor" by Daniel Grotta: A meaningful, deeply satisfying story that packs an emotional punch.
What is it to be honorable? In the eyes of others? In your own heart? Is it what you've done or who you are? Jeff Smith is haunted by the guilt of what he did (or didn't do) during the Vietnam War war. Now, thirty years later, he must overcome his deep shame and step out from behind the mask his life as become, to help his daughter realize her dream.This novella explores the human cost when patriotism, personal ethics and the deep bond of friendship collide. Available as an ebook and paperback. ("Honor" is currently being adapted into a theatrical play by the playwright David Zarko.)
"Cautionary Tales for the New Millennium" by Eric Nielsson: A mini collection of very short illustrated stories reminiscent of "The New Yorker's" old short humor pieces.
Even in the best of times, life has always been complicated and confusing. But the new social and technological dynamics that have taken over our world since the turn of the century have flummoxed us beyond belief (and maybe redemption). Eric Nielsson manages to capture the droll, ironic realities of the modern everyday in a few short words, while making us think (and smile). Jay Munro's illustrations offer delightful counterpoint to Eric Nielsson's tales of woe and wonder. A PHP Shorts ebook.
"Jo Joe" by Sally Wiener Grotta: A compelling, beautifully crafted novel, with richly drawn, intriguing characters.
As a child, Judith Ormand was the only Black — and the only Jew — in a small insular Pennsylvania mountain village where she was raised by her white Christian grandparents. Now, she must reluctantly break her vow to never return to the town she learned to hate. During her one week visit, she buries and mourns her beloved grandmother, is forced to deal with the white boy who cruelly broke her heart, and is menaced by an old enemy. But with her traumatic discovery of a long buried secret, Judith finds more questions than answers about the prejudice that scarred her childhood. Available in print and eBooks.
Download Book Excerpts & Complete Stories from these and other titles, compliments of Pixel Hall Press.
About Pixel Hall Press:
Pixel Hall Press is a relatively new, old-fashioned small publishing house whose focus is on discovering literary gems and great stories that might otherwise be overlooked. Our mission is to publish books that energize the imagination and intrigue the mind, and to be a conduit between readers and provocative, stimulating, talented authors.
In this era of digital technology, Wall Street involvement and merger mania, many mainstream publishers seem to have lost sight of core principles and the purpose of publishing. At the other end of the spectrum is the veritable avalanche of self-published books that are notoriously uneven in quality. Small boutique imprints like Pixel Hall Press are reclaiming the heart and soul of publishing by reviving the idea that a publisher's "raison d'être" is finding and nurturing great writers, and to provide readers with beautiful, meaningful, truly enjoyable books.