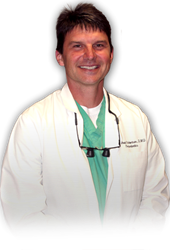 New Albany, MS (PRWEB) August 07, 2014
Periodontal disease is a national epidemic, with millions of Americans harboring gum infection out of sight in their mouths. Gum disease among patients in New Albany, MS may follow the averages in the country, with a majority of residents having some degree of periodontal infection that needs treatment. Many people avoid gum surgery because of fear of the cutting and stitching of gum tissue traditionally involved in the process. Now there is a gum surgery alternative that uses laser light to target the infection and the damaged tissue, leaving healthy tissue intact.
The symptoms of gum disease that patients in New Albany may see can include:

Swollen or painful gums
Pus or discoloration around gums
Bleeding gums
Persistent bad breath or mouth odor
Loose teeth
Whether due to inadequate oral care or a health condition that may weaken the gums, periodontal disease is a serious oral health risk that should not be ignored. The gum infection will go on to cause permanent damage to the teeth, gums, and roots if left untreated. The delicate gum tissues will develop pockets of infection that allow the disease to spread further into the base of the teeth if not eliminated by thorough gum disease treatment.
Not only can gum disease contribute to further decay, tooth loss, and gum recession, but studies have also linked gum disease to other health conditions such as stroke, heart disease, pancreatic cancer, and more. The risks of living with untreated gum disease can be severe.
Now with the modern laser gum surgery alternative available with the LANAP® protocol in New Albany, Dr. Robertson treats gum disease in as little as one office visit. The minimally invasive procedure is FDA cleared to target disease causing bacteria and damaged tissue, while leaving healthy tissue unharmed. Most patients report only slight discomfort and little bleeding with the simple gum surgery, and many can return to life activities within the day.
To learn more about the gum disease treatment now available for New Albany patients, call (662) 269-1317. For more details about LANAP® surgery, the laser gum surgery alternative, visit the office on the web at http://www.northmsperio.com.
About the Doctor
Dr. J. Michael Robertson is a periodontist offering personalized dental care for patients in Tupelo, MS. Dr. Robertson received his B.A. from the University of Mississippi as a chancellor and Dean's List scholar, and his D.M.D. from the University of Mississippi School of Dentistry. He earned his certificate in periodontics from the University of Alabama. Dr. Robertson is part of one percent of dental professionals providing the LANAP® protocol, an FDA cleared laser procedure for gum disease and periodontal treatment. To learn more about Dr. Robertson and his dental services visit his website at http://www.northmsperio.com and call (662) 269-1317.