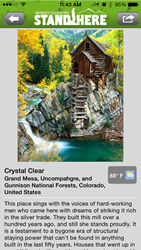 "Whether you're a photographer, an avid hiker or just want to make your family vacation more special, these are places you need to see," notes Lough.
Portland, Ore. (PRWEB) August 13, 2014
Award-winning wilderness photographer, Rodney Lough Jr, announced today the launch of the Stand Here mobile app, a travel and hiking guide to the most beautiful places on the planet. The free app is available for download in the iTunes App Store.
Lough has devoted his entire career researching, discovering and documenting the most beautiful places in wilderness. Now he's sharing these special places through his mobile application for the iPhone, Stand Here.
"Whether you're a photographer, an avid hiker or just want to make your family vacation more special, these are places you need to see," notes Lough.
The Stand Here app features detailed information to over 400 viewpoints from Acadia to Zion national parks. Utilizing the GPS in the iPhone, the Stand Here app provides route information to these special locations. In addition, the app provides all the information needed to fly, drive and to stand exactly where Lough stood when he took each of his spectacular photos. The app's companion website, http://standhere.net offers account login ability and the same detailed information as the mobile app.
Key features of the app include:

Detailed GPS mapping, hiking instructions and travel information for viewpoints at over 400 locations
Track a trail – the ability to track your own trails to viewpoints you discover
Park information ranging from restaurants, hotel and visitor center information to the best campsites
Photo, video and story sharing from the trail. Share your photos from the viewpoints and your stories about hiking the trails.
With the launch of the app, Lough has taken a stand for the environment. "I could have kept these places a secret, but I don't believe that's the best way to protect them," said Lough. "My goal for Stand Here is to create a community of like-minded people dedicated to preserving these places. For each Stand Here viewpoint purchased, a portion of the sale will be donated to protect that very spot. I believe that we should leave the planet in better shape than we found it. By donating back to these beautiful places, we can create a better world, for generations to come."
The app is available for download today in the iTunes App Store.
For more information visit http://standhere.net.
About Rodney Lough Jr.: A Master Wilderness Photographer Rodney has been traveling to the ends of the earth and weathered all types of climates, in a quest to find nature's most exquisite terrains to photograph. Renowned for the vibrant colors and vivid textures of his wilderness and landscape photography, Rodney is a purist who captures what nature creates, using no color filters or darkroom deception. His dedication has earned him numerous national and international awards, including a Master of Photography Degree from the Professional Photographers of America. A selection of his work is now part of the Smithsonian National Museum of Natural History's permanent collection. Rodney's work can be found online at http://www.rodneyloughjr.com and at his own gallery in Las Vegas.