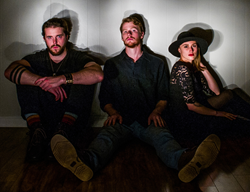 Three unique voices separate and intertwine to emit one call, channeling sounds from the Delta and bits of old Gospel guises and transcends this Boston trio's urban roots.
Cleveland Heights, Ohio (PRWEB) August 05, 2014
Blending energetic rock music with sincere and passionate lyrics, The Ballroom Thieves is sure to deliver an unforgettable performance on August 8, especially for six lucky friends, who will start their weekend with a wine tasting followed by the concert, courtesy of Cain Park, your Summer Arts Park.
Founded in 2011, The Ballroom Thieves is a Boston-based group that melds rock, folk, and Gospel elements in their music. The band is made up of three talented musicians: Martin Earley (guitar/vocals), Devin Mauch (percussion/vocals), and Calin Peters (cello/vocals). Since getting their start three years ago, The Ballrooms Thieves have released two well-received EPs: The Devil and the Deep (2012) and The Ballroom Thieves (2013). Those who like the music of Mumford & Sons and The Lumineers will certainly enjoy The Ballroom Thieves.
Tickets for this event, which begins at 8pm, are $15 in advance and $18 the day of the show. They can be purchased at Ticketmaster (800-745-3000) or the Cain Park ticket office (216-371-3000). Cain Park is located at Lee Road and Superior Road in Cleveland Heights. A pre-concert wine tasting, in partnership with The Wine Spot, will be available for ticket holders from 5:30 to 7:45. In order to purchase tickets for this event, which will cost $10, call 216-371-3000 or visit http://www.cainpark.com/tastings.
This concert is supported by WCPN. Cain Park 2014 season sponsors include Cuyahoga Arts & Culture, Ohio Arts Council, Severance Town Center, Intercontinental Hotels – Cleveland, and Motorcars Honda/Toyota/Scion.
Cain Park, a municipally owned and operated summer arts park and one of the nation's oldest landmark outdoor theatres entering its 76th season, is produced by the City of Cleveland Heights and is located on Superior Road between Lee and South Taylor roads.
Contact:
Ksenia Roshchakovsky, Cain Park PR/Marketing Manager
216-291-5792, Ksenia(at)clvhts(dot)com