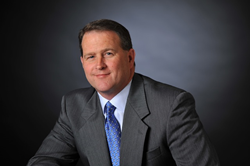 Mike is passionate about our business and ready to lead the company as we navigate the ever-changing IT landscape.
(PRWEB) August 04, 2014
Force 3, delivering the best in federal security, collaboration, next-generation networking, and support solutions, today named Mike Greaney Chief Executive Officer.
Greaney joined Force 3 in 2009 with more than 24 years of experience. Having spent his entire career in the technology industry, he has built a reputation for efficiently growing and transforming businesses while increasing company value. Since joining Force 3, Greaney has served in progressive leadership roles, including Director, Vice President, and most recently, President of Force 3 Federal.
Under his leadership, Force 3 has developed several unique service and solutions offerings, and the company has been recognized with numerous performance awards from manufacturers and customers alike.
"As we seek to advance Force 3's mission to secure success for all customers, we focused on identifying a leader who could bring vision, focus and a wealth of experience to Force 3's continued growth," said Rocky Cintron, Chairman and Founder of Force 3. "Mike is passionate about our business, proven in the industry, and ready to lead the company as we navigate the ever-changing IT landscape."
"I am honored by this opportunity to lead Force 3, and excited about this new challenge. We have a very talented team, and I am dedicated to empowering them to further strengthen the confidence our customers have in this company," said Greaney. "As we work together to take Force 3 to the next level, I will focus on expanding the capabilities of our business model to meet the growing demands of the technology industry."
Greaney earned a Bachelor of Arts degree from the University of Maryland and a Masters of Administrative Sciences degree from the Johns Hopkins University. He plays an active role in a number of industry associations, including AFCEA, as well various manufacturer advisory boards and Force 3's corporate community initiatives.
About Force 3
Force 3 is the network security company. For over two decades, Force 3 has securely delivered and supported Security, Collaboration, Wireless, Virtualization, Next Generation Networking and IT Support solutions for Federal agencies. With headquarters in Crofton, Md. and offices in Herndon, Va., Force 3 has a relentless focus on customer success through innovation, unique solutions and highly trained, passionate people. Our dedication and commitment has earned the highest accolades from customers and partners, including Cisco, Citrix, EMC and VMware. For more information, please visit http://www.force3.com.