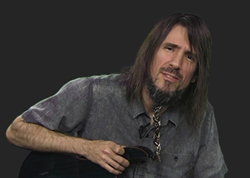 Being able to share my knowledge through JamPlay was very rewarding.
Dayton, Ohio (PRWEB) August 05, 2014
Ron "Bumblefoot" Thal recently contributed an extensive Artist series to JamPlay focused on exercising both the mind and the hands to enhance the execution of your musical ideas. JamPlay members are able to access these lessons and thousands more. Ron's lessons cover a wide range of topics, including:

Playing with a drummer
Focusing on rhythm
Sweep picking
Mental multitasking
Playing two scales at once
Coordinating both hands
Blues
Reading the fretboard
...and quite a bit more.
If you want to become a great guitar player, then why not learn from one of the greatest guitar players? This concept adopted by JamPlay has helped over 325,000 guitarists improve their playing.
JamPlay's Chris Liepe is head of content production says, "Bumblefoot is one of the most technically advanced players I've ever seen or heard, yet he's also incredibly musical. His quirky solos and sounds, combined with catchy, singable melodies make his playing fun to listen to and learn from."
In addition to Ron's solo career, he is currently playing with Guns 'N Roses and has played with Lita Ford and Salem.
His guitar lessons are now available at JamPlay.com.