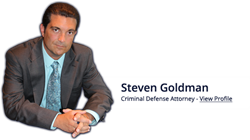 (PRWEB) August 03, 2014
Goldman & Associates, the premier Chicago criminal defense law firm, is pleased to announce a new complimentary consultation for Chicago domestic violence cases. Individuals accused of domestic violence, are encouraged to call:773-484-3131.
Domestic violence is an issue that millions of Americans have to cope with every year. Domestic violence accusations may result in misdemeanor or felony criminal charges, but in either circumstance, it is essential that domestic violence suspects speak to Goldman & Associates.
To learn more about Goldman & Associates, visit http://www.criminallawyer-chicago.com/practice-areas/domestic-violence/
About Steven Goldman
Steven Goldman attended the University of Arizona, graduating in 1995 with a Bachelors degree in criminal justice. He went on to Lansing, MI to attend the Thomas M. Cooley Law School, earning his J.D. while graduating cum laude in 1998. Soon afterwards, he started his own firm, Goldman & Associates, providing aggressive, dedicated legal defense for individuals throughout Chicago and Cook County, particularly for cases that many other attorneys are reluctant to take such as DUIs, weapons charges, and drug crimes.
Since beginning his legal career, Steven Goldman has helped represent clients in more than 5,000 cases, a remarkable level of experience that has enabled him to learn in-depth what it takes to effectively represent clients in almost any situation. He is committed to working closely with every client whose case he agrees to handle, ensuring that they receive the personal attention needed to craft a custom legal strategy that is best suited to their needs and situation.