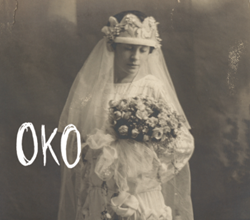 OKO serves notice to modern music lovers that Lena Fayre is a talent to be reckoned with -- Monsters & Critics
Los Angeles, CA (PRWEB) August 05, 2014
This summer has been busy for L.A. native, 18-year-old singer-songwriter Lena Fayre, and August promises to bring even more excitement with the release of OKO, her much anticipated 11-track LP. OKO appears in the wake of an eventful 2013 which saw the release of her self-titled debut EP, as well as three videos which garnered millions of YouTube views and multiple awards. Topping it off, Rolling Stone Magazine recently featured Lena Fayre as "A New Artist You Need To Know."
OKO marries Fayre's gift for fusing sensual, melodically-entrancing arrangements with hefty synthpop angst. The tracks on OKO flow from deconstructed, rhythmic trances in "I Am Not A Man" to gritty pop beats in "Gold Standard." Lena Fayre collaborated on OKO with highly accomplished producers John Alagia, Sean Gould, Jimmy Harry, Chris Keup, and Nolan Sipe. She wrote the songs for OKO with award-winning songwriters, such as: Olga Bell, Sanders Bohlke, Colin Killalea, Liz Phair, and Adam Smith.
The result? An album that is capturing the musical imagination of reviewers and fans alike, resulting in comments like this one from reviewer April Neale at Monsters&Critics.com: "OKO serves notice to modern music lovers that Lena Fayre is a talent to be reckoned with."
Fans can see Lena Fayre perform songs from OKO on the West Coast throughout the summer. She's already wrapped up 15+ shows in Southern California and has more on slate in the coming months.
For more information about Lena Fayre, visit her website at lenafayre.com.