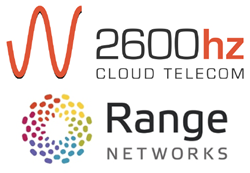 The combination of Kazoo and the OpenBTS network architecture represents a major leap forward in expanding the reach of new, non-traditional mobile networks.
Chicago, IL (PRWEB) August 05, 2014
2600hz and Range Networks announced today, a major advancement in the modernization of mobile networks with the integration of 2600hz's powerful Kazoo telecom services platform and Range's OpenBTS-powered radio access networks during ClueCon, the open source FreeSWITCH.org annual convention.
The result of the partnership is the most advanced and capable all-software, all-IP wireless network architecture for mobile network operators and private network service providers. The total solution offers a distributed, redundant system with fault-tolerant backhaul on a super-thin core and Radio Access Network (RAN).
Kazoo-OpenBTS integration KEY FACTS:

Single switching architecture for Cellular and VoIP: The combined solution provides an unprecedented common voice and message switching architecture for cellular, wireline VoIP and WiFi VoIP (VoFi), marking the first time a cellular network can be managed in the same manner as a VoIP network.
Network resilience: A key feature of the combined solution is increased network resilience in a multi-node RAN deployment due to extensive built-in redundancy and intelligent management of distributed operations. Intermittent backhaul connectivity extending to satellite backhaul is made more robust.
Move to commodity hardware: All elements of the system run on low-cost standard Linux servers, signifying a transition away from traditionally proprietary, closed hardware systems to a software-based, IP network future.
Facilitates new market entrants: New service providers have the opportunity to enter the market in a fast, flexible manner and at a significant cost advantage to traditional mobile networks.
SUPPORTING QUOTES:
Darren Schreiber, CEO of 2600hz, said:
"It is extremely exciting to see 2600hz's open-source platform integrated on to Range Networks' infrastructure. This represents a new frontier, bringing advanced functionality beyond the reach of existing cellular networks."
Edward Kozel, CEO of Range Networks, said:
"The combination of Kazoo and the OpenBTS network architecture represents a major leap forward in expanding the reach of new, non-traditional mobile networks. It's amazing to see the simplicity and flexibility of Kazoo-managed wireless IP operations extended to cellular networks."
Anthony Minnessale, CEO of FreeSWITCH.org, said:
"Recognizing that FreeSWITCH underpins key components of this combined solution, we are excited to have Range Networks and 2600hz choose ClueCon as the venue for this announcement. When we started the FreeSWITCH project we hoped to foster exactly this type of industry-disrupting innovation."
About 2600hz
2600hz is a leading provider of mobile and cloud communications software, providing voice, video, fax and SMS technologies. 2600hz enables users to take control of large telecom infrastructures by removing the barriers between their telecom systems. The 2600hz platform makes it easy for developers to create telecom applications with open access APIs. Based in San Francisco, California, 2600hz is a privately owned company. http://www.2600hz.com
About Range Networks
Founded by the inventors of OpenBTS, Range Networks is developing the future of cellular networks and is the leader in commercial open source cellular systems. Range Networks' systems are simple to deploy and manage at a fraction of the cost of traditional solutions. http://www.rangenetworks.com
About FreeSWITCH
FreeSWITCH is a scalable open source cross-platform telephony platform designed to route and interconnect popular communication protocols using audio, video, text or any other form of media. It was created in 2006 to fill the void left by proprietary commercial solutions. FreeSWITCH also provides a stable telephony platform on which many telephony applications can be developed using a wide range of free tools. http://www.FreeSWITCH.org