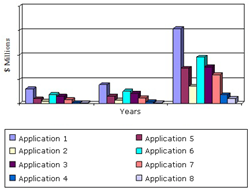 Global Market for Vertical-Cavity Surface-Emitting Lasers to Reach Nearly $2.1 Billion by 2018
Wellesley, Mass., (PRWEB) August 04, 2014
BCC Research (http://www.bccresearch.com) reveals in its new report, VERTICAL-CAVITY SURFACE-EMITTING LASERS (VCSEL): TECHNOLOGIES AND GLOBAL MARKETS, the global market for vertical-cavity surface-emitting lasers (VCSELs) is expected to reach to nearly $2.1 billion by 2018, registering a five-year compound annual growth rate (CAGR) of 33.1%. The optical fiber data transmission segment is expected to record highest growth with $615.1 million by 2018 and a CAGR of 31.2% during the forecast period.
The use of VCSELs has increased in the optical communications industry in the past 15 years. The growing demand in consumer electronics products and other high-end applications such as gesture recognition and 3D imaging have spurred the demand of VCSELs.
The VCSEL market is expected to grow from $361.0 million in 2012 to nearly $2.1 billion in 2018, at an anticipated CAGR of 33.1%. VCSELs dominating the optical communications market are expected to be a prevalent source in coming years. Analog broadband signal transmission and absorption spectroscopy (TDLAS) are predicted to record the highest CAGRs of 37.3% and 37.2% respectively.
"While edge emitters can't be tested until the end of the production process, VCSELs can be tested any time in the production process," says BCC Research analyst Sinha G. "This saves time for manufacturers and gives the best quality product in the end."
VERTICAL-CAVITY SURFACE-EMITTING LASERS (VCSEL): TECHNOLOGIES AND GLOBAL MARKETS provides an overview of the current and future of the global VCSEL market. It intends to understand opportunities and innovation-driven VCSEL market highlights, and the major regions and countries involved in such developments over the next five years. Identifying segments with high growth potential along with understanding future applications of given segments is also discussed. In addition, key trends related to the applications, raw materials and colors (wavelength range) that shape and influence the photonic IC market have been covered in this report.
Editors and reporters who wish to speak with the analyst should contact Steven Cumming at steven.cumming(at)bccresearch(dot)com.
About BCC Research
BCC Research publishes market research reports that make organizations worldwide more profitable with intelligence that drives smart business decisions. These reports cover today's major industrial and technology sectors, including emerging markets. For more than 40, years we have helped customers identify new market opportunities with accurate and reliable data and insight, including market sizing, forecasting, industry overviews, and identification of significant trends and key competitors. We partner with analysts who are experts in specific areas of industry and technology, providing unbiased measurements and assessments of global markets. Our clients include the top companies in industries around the world as well as universities, business schools, start-ups, consulting firms and investment companies. BCC Research is a unit of Eli Research LLC. Visit our website at http://www.bccresearch.com. Contact us: (+1) 781-489-7301 (U.S. Eastern Time), or e-mail information(at)bccresearch(dot)com.
Data and analysis extracted from this press release must be accompanied by a statement identifying BCC Research LLC, 49-2 Walnut Park, Wellesley, MA 02481, Telephone: (+1) 781-489-7301; E-mail: editor(at)bccresearch(dot)com as the source and publisher. Thank you.