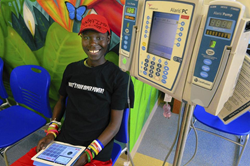 We can make a difference when we take action.
WEST PALM BEACH, FL (PRWEB) August 06, 2014
Last week, 97.9 WRMF featured on The Kevin, Virginia & Jason Show, the story of Jeff Mortimer, a young man stricken by a rare, but aggressive form of cancer known as spindle cell sarcoma. (ABC News)
Representatives from local non-profit organization, Little Smiles, shared with listeners how Jeff had been diagnosed with this debilitating illness at the age of 16, fought valiantly for three years - enduring chemotherapy and radiation treatments – sadly, losing his battle at the age of 19. Jeff, known as "Young Jay" in the group "LDL 365", recently signed a record deal with Sony, and was an inspiration to so many. His lyrics served to encourage others who were struggling through life's various battles. In a May, 2014 television interview, Jeff reminded viewers that "Life is too short; you can't stay sad all day."
His parents, in addition to grieving the loss of their son - a life that was certainly too short - were also faced with planning Jeff's funeral; the financial burden of which was too great for them. Understanding the strength of community, WRMF and Little Smiles made an on-air public appeal for support.
Steinger, Iscoe & Greene firm partner, Sean Greene who was listening to the broadcast, was moved to action. Greene contacted the radio station and pledged the firm's support live on air, agreeing to cover the balance of whatever monies were not raised during the broadcast. "We can make a difference when we take action," says Greene.
Founding partner Michael Steinger agrees that such commitment "comes as second-nature. We are in the business of advocacy for those who need help." This advocacy pillar is exemplified through the firm's work with local agencies and community groups, often relied upon to give of their time and treasure.
The firm's attorneys and staff are the examples of that difference in action; banding together with the community and standing in support of those with nowhere else to turn.
Helping the Mortimer family was not accomplished solely by the efforts of the firm, or the radio station, or the Little Smiles agency. "This was a collaboration of community; a prime example of parties working together for the benefit and good of others – a principle to which our firm is devoted," states partner Sean Greene.
About Steinger, Iscoe & Greene:
Steinger, Iscoe & Greene is a proven legal team whose number one goal is to get injury victims throughout Florida and California every dollar they truly deserve for their injuries. Since 1997, the firm has successfully handled thousands of cases including: auto accidents, bicycle accidents, birth injuries, product liability and catastrophic cases. The entire legal team is committed to representing and fighting for injury victims' best interests, giving each client insight into their individual rights as it relates to the law.
With more than 30 lawyers, 140 legal professionals, and offices throughout South Florida - Miami, Fort Lauderdale, West Palm Beach, Port St Lucie, Okeechobee, Ft Myers, Orlando and Tampa - and most recently San Diego, California, the firm is ready to advocate for the best interests of injury victims coast-to-coast while offering the No Fee Guarantee®; you don't owe us any money unless we get money for you.