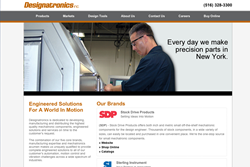 Engineered Solutions for a World in Motion
New Hyde Park, New York (PRWEB) August 05, 2014
The website provides visitors with instant access to a rich set of design tools, technical resources, comprehensive online stores and career center.
What's more, the website offers easy linking to each of the Company's five core brands of mechatronics components and assemblies: Stock Drive Products (SDP), Sterling Instrument (SI), Quality Transmission Components (QTC), Quality Bearings & Components (QBC) and Advanced Antivibration Components (AAC).
Each brand allows visitors to view or download detailed product catalogs and videos with the option to shop online or request a quote.
Developed with the latest technology, the updated Designatronics website is fully compatible with today's browsers and the content conveniently adjusts to the screen size of any mobile device or tablet.
Visit the newly redesigned website at http://www.designatronics.com.
About Designatronics
Designatronics is a Dyson, Dyson, & Dunn Inc. portfolio company and is a leading manufacturer of small mechanical components, servicing a wide variety of industries such as Aerospace, Defense, Medical, as well as the Industrial Sector for over 50 years. Quotes, online orders, and 3D CAD Models are available on our updated e-stores for each of our brands.
We offer over 300,000 power transmission components, including gears, belt and chain drives, shafts, shaft accessories, bearings, couplings, universal joints, vibration mounts, miscellaneous components, hardware, gearheads and speed reducers, right angle drives, brakes and clutches, motors and gearmotors.