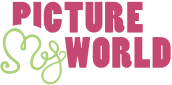 Michelle Hayman commented, 'Together, with our skilled team of talented artists, we are helping to inspire creativity in children. Our platform is unique because it offers young artists a way to showcase and promote their work.'
Manchester, United Kingdom (PRWEB UK) 5 August 2014
Award-winning author and educational consultant, MaryAnn F. Kohl, has said that through creating art, children learn many important life skills. Including communication, problem-solving, fine-motor, and social skills. In addition, art inspires a sense of uniqueness in children that is essential to a positive self-concept. Picture My World wants to help inspire creativity in children and be part of the process.
When parents see their children color a picture or mold play dough into a miniature masterpiece, they may not realize just how much their child is actually benefitting from the experience; however, young minds learn a lot through exploring their creativity, and often, art is actually a way for them to express their thoughts and emotions.
Fostering an environment conducive to creativity is one way to motivate young minds, and this can be done by decorating children's bedrooms and play areas with bright colors and artistic schemes. One of the easiest ways to transform a room into an artistic haven is to cover a wall with an imaginative wallpaper mural from Picture My World.
This innovative web-based company creates stunning masterpieces that are easy to install and easy to remove if the time comes that a youngster wants to redecorate. Each mural was designed by an extremely talented team of artists, many of whom have had their works featured in children's books, games and comics distributed by popular brands like Galt Toys, Scholastic Books and Cbeebies.
Having a mural painted directly onto a wall can be extremely expensive, but a wallpaper mural offers all of the benefits of a painted piece at a fraction of the cost. Customers can choose from a collection that has a variety options suitable for babies, children and teenagers; they are bright and colorful and come in themes for both boys and girls.
Company founder, Michelle Hayman, commented, "Together, with our skilled team of talented artists, we are helping to inspire creativity in children. Our platform is unique because it offers young artists a way to showcase and promote their work, and we are proud to be a part of that process."
Each of Picture My World's products is an actual piece art and not something simply recreated from stock images found on the Internet. In addition, buyers have the option to upload an image of their choice and create a mural based on their own design.
Some wallpaper murals tell a story, some feature pirates or princesses, and some help children learn their numbers and ABCs, but regardless of the design, children find a room that has been decorated by Picture My World both magical and fun. The bright colors and artistic schemes offer fuel for the imagination and inspiration for the young mind.
-- END --
You have full permission to rewrite this article and feature it online/offline. For photography, high-res images, or interviews - please contact using the details below.
Contact Name and Position: Michelle Hayman, President
Company: Picture My World
Website: http://www.picturemyworld.co.uk/
Email: support(at)picturemyworld(dot)co.uk
Telephone: +161 879 4778
Information About the Business:
Research Links:
http://www.barnesandnoble.com/u/maryann-kohl-importance-of-art/379002442/
http://www.huffingtonpost.com/carla-thompson/fostering-creativity-and-_b_2811880.html