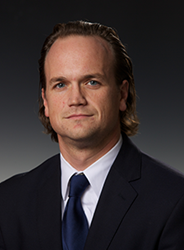 Syracuse, New York (PRWEB) August 04, 2014
With a nationwide reputation as one of the nation's finest DWI defense attorneys, Thomas Anelli has built the Anelli Xavier practice into the premier DWI defense firm in New York State. In doing so, Anelli has worked tirelessly to assemble a team that knows every facet of DWI defense intimately.
Recently, Anelli was interviewed about the attorney he promoted to assure the high quality of legal services that have become the benchmark of the firm's success.
When interviewed in July of 2014, Anelli announced the promotion of one of the firm's finest trial attorneys, Kevin K. O'Brien, to the role of Director of Legal Services. Anelli explained that in Mr. O'Brien's new role he will be overseeing the legal product that is delivered to Anelli Xavier clients across all of the firm's offices throughout New York State.
Kevin K. O'Brien was formerly charged with the responsibility of overseeing the opening of the firm's Albany office, and assuring the highest level of legal product was being delivered to the firm's clients in the Capital region. O'Brien was also involved in handling some of the firm's most serious cases, and helping develop the trial skills and case strategy of other attorneys within the firm.
In his new role, as Director of Legal Services, Mr. O'Brien will assure all the attorneys at Anelli Xavier utilize the same extremely successful approach to client services and defending DWI cases that Anelli Xavier has become known for across New York State.
When asked why it was important for Anelli Xavier to have a Director of legal Services (a role not found in most firms), Anelli confirmed, "Mr. O'Brien's promotion to Director of Legal services is important because in every case that Anelli Xavier handles the motorist charged with drinking and driving must be afforded the full protection our legal system has to offer. That's why Anelli Xavier exists, to guarantee those protections. When the system fails for one client, when those protections are NOT afforded – it fails for everyone,"
Anelli continues; "Mr. O'Brien and I together with the rest of the attorneys at Anelli Xavier have a specific task, and that task is established by centuries of legal history. It rests on the presumption of innocence, the idea that everyone is entitled to a full and fair defense, and the standard that a person charged with a crime must be proven guilty beyond a reasonable doubt."
Kevin K. O'Brien as the Director of Anelli Xavier's Legal Services will assure the entire team of attorneys at Anelli Xavier will continue to zealously defend those accused of drinking and driving across New York State. "We honor everyone when we preserve the rule of law," Anelli concludes, "No matter how difficult that may be, at times, to understand. Our task is to do that to the best of our ability, and we will remain faithful to that task, because some truths never change."
When Kevin K. O'Brien was asked what he hopes to accomplish in this new role, he responded, "I hope to continue putting the focus where it needs to be, on our clients. In this firm we represent people, citizens of this great country, who are charged with serious crimes. All of them have rights that we must never compromise and we must defend fully while aiding them to understand and appreciate the process of our criminal justice system. I believe that Anelli Xavier already delivers the best representation, customer service, and results on DWI cases in the state of New York. It is my goal to assure the entire firm continues delivering these exceptional services and results, improve where we can, and always remember that each of our clients is a real person who deserves our best."
Mr. O'Brien's new role and title will be effective on July 21, 2014.
If you are charged with a DWI in New York State, contact Anelli Xavier. Their team of highly motivated, well-trained attorneys know that not everyone who is charged with DWI is guilty.
About Anelli Xavier
Anelli Xavier limits its practice to DWI defense and the defense of the associated serious vehicular charges. Learn more by visiting Anelli Xavier today.