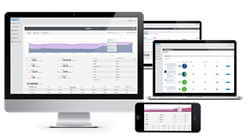 Tel Aviv, Israel (PRWEB) August 05, 2014
Initial results for the newest feature of the SocialClicks Advance Suite, automated bid and budget optimization for oCPM ads on Facebook are in. SocialClicks released oCPM optimization for their cutting-edge self-service platform following the recent release, and powerful results, from a similar feature for CPC campaigns. Advance's programmatic auto-optimization adjusts to the changes and performance of ads in real-time, while taking into consideration both historical and statistically likely future performance, to maximize campaign results without all the hands on monitoring and decision making non-programmatic advertising requires.
Initial comparative analysis of campaigns, run with and without SocialClicks' new automated optimization for oCPM campaigns, shows increases in clicks, impressions, conversions, income, and ROI for clients using the platform.
Facebook's oCPM (Optimized Cost per Mille) ads automatically adjust bids on behalf of marketers based on their predefined campaign targets in order to deliver ads to the most relevant audience, providing incredible results for advertisers across the platform. Now, the newest feature of SocialClicks Advance is adding an additional layer optimization over this already powerful tool with proprietary automated bid and budget optimization algorithms, which are designed to adjust budgets and bids programmatically based on historical campaign insights, real-time data and likely future outcomes. Through the SocialClicks Technology Suite, oCPM ads are optimized according to predefined ROI and CPA goals, allowing for the intelligent programmatic adjustment of ads and campaigns to ensure these targets are reached.
Through the use of automated-optimization for oCPM ads, campaigns drove increases of 33% in impressions, 25% in conversions, and 30% in clicks, in comparison to ads run without the auto-optimization in tests of nearly 20 global markets across all advertising tiers. Additionally, this significant increase in campaign scale is driven with 15% lower costs.
About SocialClicks
SocialClicks delivers programmatic mobile advertising solutions, driving maximized lifetime ROI and reduced customer acquisition costs, through Artificial Intelligence and Big Data analysis. We are a Facebook Preferred Marketing Developer, and our proprietary mobile product offering includes in-house advertising solutions, fully-managed services, and the SocialClicks Mobile DSP for Real-Time Bidding on the world's leading RTB exchanges.
With locations and support on three continents, we provide programmatic marketing solutions to a diverse global client base, including the world's leading game and application developers, technology companies, e-commerce platforms and brands.
Through automated optimization technology, the SocialClicks Technology Suite identifies and targets the highest quality potential users and customers, and programmatically adjusts bids and budgets based on vast quantities of historical data, real-time campaign performance and the highest probability of achieving impactful future outcomes.
If you would like to learn more please visit our website or reach out to us at info(at)socialclicks(dot)com.