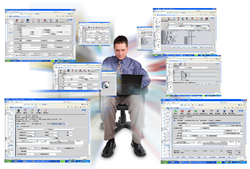 HEALTHsuite Mercato is continually evolving to meet the changing demands of the industry.
Fort Washington, PA (PRWEB) August 06, 2014
RAM Technologies, Inc., the perennial leader in the development of enterprise software solutions for health plans, is pleased to announce new capabilities available with the HEALTHsuite® Mercato solution. These enhancements provide significant operational flexibility and improved processing power for health plans administering Medicare and Medicaid benefits.
The latest HEALTHsuite release includes many capabilities to streamline health plan administration and increase productivity including:

New and easily customizable invoice options
Streamlined dual eligible processing and reduced execution time
Greater flexibility to withhold claim payment pending receipt of premiums
Simplified creation of payment coupon booklets
New claim dialog options to allow users to enter, update and view data on standard industry forms
Robust security managed via a user friendly interface
And more
"HEALTHsuite Mercato is continually evolving to meet the changing demands of the industry," stated Christopher P. Minton, Executive Vice President of RAM Technologies. "The latest enhancements to the HEALTHsuite system reinforce our focus on providing the very best capabilities for Medicare and Medicaid administration. Health plans administering these government sponsored programs will appreciate the increased flexibility and powerful processing provided with HEALTHsuite Mercato."
HEALTHsuite Mercato is a fully integrated application that provides advanced automation across the health plan enterprise. Combined with eHealthsuite™, RAM's innovative web portal product, RAM's solution suite provides comprehensive functionality for health plans who desire a fully integrated system to maximize employee productivity and lower administrative costs.
About RAM Technologies:
RAM Technologies is the leading provider of enterprise claims processing software and claims adjudication software for health plans. For over 33 years RAM Technologies has led the way in the creation of Medicaid software solutions, Medicare software solutions and software for dual eligible processing (the Medicare-Medicaid Financial Alignment Initiative). RAM Technologies has been recognized on Inc. Magazine's List of Fastest Growing Private Companies and the Philadelphia Business Journal's List of Top Software Developers for their advancements in the creation of comprehensive claims management software for Medicare and Medicaid administration. To learn more about RAM Technologies' healthcare care claims processing and managed care software solutions call (877) 654-8810 or visit ramtechnologiesinc.com.