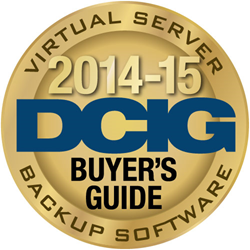 'Virtual server backup software providers are upping their game to provide new features and functions that are no longer nice to haves, but must haves,' said Charley McMaster.
Austin, Texas (PRWEB) August 04, 2014
With projections that server workloads will be virtualized by more than 80 percent over the next two years, it comes as no surprise that the continued benefits of power reduction, hardware optimization, improved application availability and lower upfront capital and ongoing operational costs will help organizations virtualize more and in turn lead to the increased need to backup the growing amount of data that resides on virtual machines (VMs).
In the year since the last publication of the DCIG Buyer's Guide for Virtual Server Backup software, there has been a steady stream of new software releases, industry consolidation and innovation that have pushed the boundaries of backing up and recovering data from virtual servers to the point it is today. Virtual-to-Physical (V2P) and Physical-to-Virtual (P2V) recovery is now standard on many products, along with VMware API for Data Protection (VADP) support, instant recovery, deduplication, vSphere integration and vCenter Server backup and restore. Many products now offer greater management functions for multi-hypervisor environments to the point where support for Hyper-V is approaching that of VMware. There is also increased interest and functionality to support connecting to cloud storage service providers to store data in the cloud.
"Organizations continue to look for faster, easier and simpler ways to deploy and manage their backup software," said Charley McMaster, DCIG Analyst and co-author of the DCIG 2014-15 Virtual Server Backup Software Buyer's Guide. "Coupled with the spread of virtualization, this need drives innovation in the solutions to backup, restore and recover data from virtual servers. With the release of this year's Virtual Server Backup Software Buyer's Guide, the competition was fierce. Two backup software providers moved up significantly in the rankings and one displaced the best-in-class from the prior two year's Buyer's Guides. As more of the data center is virtualized, IT users have ways to leverage their infrastructures in ways they only dreamed about before. To do that, they need to make sure they have the right virtual server backup solution in place. "
For the DCIG 2014-15 Virtual Server Backup Software Buyer's Guide, DCIG, LLC evaluated 26 offerings from 22 companies. After an initial survey containing more than 100 questions was completed, product capabilities were assessed based on a combination of data provided by the vendor, prior DCIG research, the analyst's own knowledge of the product and information available in the public domain. Products were then evaluated on more than 150 features. After scores were compiled, products were ranked Best-in-Class, Recommended, Excellent, Good, or Basic across functionality and capability relative to the other products included in the Buyer's Guide.
The intent for this Buyer's Guide, as with all DCIG Buyer's Guides, is to provide an "at-a-glance" comparison from which end users can select the most appropriate solution for their existing needs. This Buyer's Guide also provides perspective on how solutions from less well known virtual server backup software solutions compare against established and better known brands.
The DCIG 2014-15 Virtual Server Backup Software Buyer's Guide Top 10 solutions include (in alphabetical order): Acronis Backup for VMware; Asigra Cloud Backup; CA arcserve Unified Data Protection; CommVault Simpana 10; Dell NetVault Backup 10; EMC Avamar 7; HP Data Protector 8.1; Symantec NetBackup 7.6; Symantec Backup Exec 2014 V-Ray Edition; and Unitrends Certified Recovery Suite (UCRS).
Unitrends Certified Recovery Suite (UCRS) rose to the head of the virtual server backup software class in this Guide by combining features from its PHD Virtual acquisition (now Unitrends Virtual Backup,) Unitrends Enterprise Backup and Unitrends ReliableDR into one. UCRS stood out in several ways from competitive solutions listed in the Buyer's Guide:

Backs up and recovers VMs in multi-hypervisor environments to include cross-hypervisor restores.
Deep VMware vSphere integration.
Multiple software support options for organizations that have contract support as well as those that do not.
Support for physical and virtual appliances.
Provides multiple options to backup to the cloud. In addition to offering its own proprietary cloud service which supports DRaaS (Disaster Recovery as a Service), it also supports various third party public cloud storage providers.
Broad virtual server backup software management and monitoring functions accessible through VMware vCenter.
Provides recovery assurance and continuity through a high level of automation, test and orchestration through ReliableDR which automates all tasks associated with recovery, from infrastructure configurations all the way up the stack to application certification.
The DCIG 2014-15 Virtual Server Backup Software Buyer's Guide achieves the following objectives:
Provides an objective, third party evaluation of each virtual server backup software that evaluates and scores their features from an end user's perspective
Scores and ranks features of each virtual server backup software solution based on criteria that matter most to end users
Provides a standardized data sheet for each of the virtual server backup software solutions so users may do quick side-by-side comparisons of products
Provides insights into what VMware vSphere APIs that each virtual server backup software solution supports
Gives any organization a solid foundation for getting competitive bids from different providers that are based on "apples-to-apples" comparisons
"Virtual server backup software providers are upping their game to provide new features and functions that are no longer nice to haves, but must haves," added McMaster. "According to our research, more than 90 percent of all virtual server backup solutions support both Microsoft and VMware. More than half make their backup software available as an appliance and more than 75 percent support tape. While many of the products started out in physical backup, for most, if not all, the transition to adapt to virtual server environments has been effective, allowing users the choice to handle the rigors of both physical and virtual machine backup from one solution. We know that this Guide will serve as a useful resource for users looking for the right solution to backup their virtual server workloads."
Disclosure and Methodology
DCIG identified 22 companies that provide virtual server backup software. Each virtual server backup software solution had to meet the following criteria:
Be available as single SKU
Backup one or more of the leading virtual server hypervisor platforms such as Citrix XenServer, Microsoft Hyper-V and/or VMware vSphere
Sufficient information for DCIG to make meaningful decisions
No vendors, whether clients or not, were afforded preferential treatment in the Buyer's Guide. All research was based upon information provided directly by vendors, research and analysis by DCIG and other publicly available information.
It is worth noting that each Buyer's Guide is not intended to be a substitute for internal testing. The information on each data sheet about each product's functionality represents the opinion of DCIG. DCIG encourages any organization that is considering the purchase of any solution included in a Buyer's Guide to do its own in-house testing and to validate the functionality of each feature.
As a supplement to this Buyer's Guide, all of the data collected for this Buyer's Guide and all DCIG Buyer's Guides to date are available through DCIG's online data visualization portal. The portal provides more detail on what is available and can be accessed via this link.
Availability
The DCIG 2014-15 Virtual Server Backup Software Buyer's Guide is available immediately and may be downloaded for no charge with registration at the following http://portal.dcig.com/.
Resources:
DCIG Blog: http://www.dcig.com
About DCIG
DCIG is a group of analysts with IT industry expertise who provide informed, insightful, third party analysis and commentary on IT hardware, software and services.
DCIG independently develops and licenses access to DCIG Buyer's Guides. DCIG Buyer's Guides provide actionable intelligence through comprehensive, in-depth analysis of data center infrastructure product features. DCIG also develops sponsored content in the form of blog entries, customer validations, product reviews, special reports and executive, standard and full-length white papers.
DCIG's target audiences include C-level executives, IT managers, systems and storage engineers and architects, press/media, magazine and website editors, bloggers, financial and technical analysts, and cloud service providers.