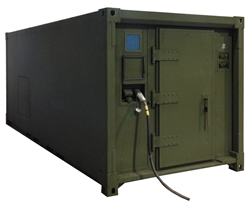 Orrville, Ohio (PRWEB) August 05, 2014
The Will-Burt Company is pleased to announce that its Advanced Composites division located in Orrville, Ohio, has been awarded a $19,465,444 firm-fixed-price, indefinite-delivery/indefinite-quantity contract for the design, fabrication and delivery of radio frequency shielded enclosures (shelters) with weatherization, and electrical and fire suppression systems to house the electronic equipment infrastructure for the U.S. Navy Relocatable Over-The-Horizon (ROTHR) system. The ROTHR System is a very unique radar system that uses high-frequency (HF) over-the-horizon (OTH) radar to track and detect drug trafficking activities in Northern South American and Caribbean and Gulf of Mexico basins.
"I am thrilled to learn that Will-Burt was awarded a multi-million dollar Navy contract," said Rep. Jim Renacci (OH-16). "This will allow Will-Burt to hire and expand, bringing much-needed jobs to Ohio's 16th District. I look forward to Will-Burt's continued growth and success."
"We made a significant investment in 2010 by acquiring a new business, composites manufacturing, and relocated the production operations to Orrville, Ohio. We recognized the potential of this business and the synergies it allowed us to achieve as it related to our other businesses," said Jeff Evans, Will-Burt's President, CEO and Chairman. "We strengthened this division by adding engineers and highly skilled production personnel that helped us to win this valuable contract."
The production of these highly advanced carbon composite shelters will be performed in Orrville, Ohio, and is expected to be completed by July 30, 2019.
Will-Burt's COO, John Stroia states, "Our composite shelters make use of proprietary designs that deliver higher performance than other shelters. Vigorous testing has shown Will-Burt Advanced Composite shelters meet or exceed the requirements of the ROTHR program."
"Our unique and innovative shelter designs are among the best in the industry and we are thrilled to be selected by the Navy for the ROTHR shelter program," said Vicki Oravec Will-Burt Advanced Composites General Manager.
About The Will-Burt Company:
The Will-Burt Company (http://www.willburt.com), located in Orrville, Ohio, USA, is the world's premier manufacturer of mobile telescoping mast and tower solutions. We offer virtually every payload elevation and integration solution from the three top brands; Will-Burt, GEROH and Integrated Tower Solutions (ITS) – for military, fire, cellular, broadcast, entertainment and other applications. Will-Burt also designs and manufactures military and other shelters made of all-composite materials that deliver higher performance at lower life cycle cost than metal or partial composite shelters. Will-Burt's LINX security solutions provide integrated access control and intrusion detection certified to protect critical assets. Will-Burt offers a variety of metal fabrication and manufacturing services backed by an ISO 9001:2008 certified quality system. Incorporated in 1918, Will-Burt is 100% employee-owned and is classified as a small business.