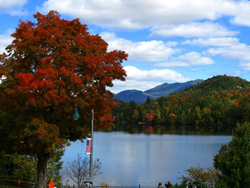 'I recommend visiting Lake Placid and the Adirondacks in mid-September, when the colors are brilliant, the sun is strong and the crowds are few,' says Matthew Wheeler, general manager, Lake House at High Peaks Resort.
Lake Placid, New York (PRWEB) August 05, 2014
Autumn colors surround visitors to the Adirondacks and Lake Placid as do the many ways Lake House guests can see and experience them.
From the air: guests take a scenic airplane ride above the majestic Adirondack Mountain and capture their fall beauty on a grand scale. From the water: visitors grab a complimentary kayak, rowboat or paddle boat from the resort and glide along Mirror Lake's placid waters while experiencing the beauty of fall colors up close. From the road: one can drive up the Veteran's Memorial Highway to the top of Whiteface Mountain to be surrounded by the magnificence of fall color for miles around. If it's a clear day, one might even see the Mount Royal in Montreal! OR guests can take a ride on the Cloudsplitter Gondola to the top of Little Whiteface or take the elevator to the top of the 120 meter ski jumps.
And with the annual traditions of Lake Placid's Oktoberfest, "Flaming Leaves Festival," and the flavors of craft beers from around the country during Brewfest, a stay at Lake House offers unique and memorable guest experiences and the comforts of a stylishly renovated hotel amidst the pristine lakes and mountains of beautiful Lake Placid.
Lake House offers "Fall Foliage Your Way" packages for the leaf-peeping enthusiast to enjoy their preferred adventure for the season.
"There is no better way to spend a few days than a visit to Lake Placid during peak foliage season, and with all of these different ways to see it, it becomes a one-of-a-kind experience that cannot be had anywhere else," shares Matthew Wheeler, general manager, Lake House at High Peaks Resort. " A recommended time for travelers to escape to the Adirondacks is mid-September, when the colors are brilliant, the sun is strong and the crowds are few."
"Our Lake House hosts will ensure that you enjoy your stay, and they can help you experience our beautiful foliage the way you want. With the Mountains of the High Peaks and Mirror Lake at our doorstep, your experience can be as adventurous or relaxing as you'd like."
For travelers who want to combine their leaf peeping with celebrations and festivals, there are several dates to note:

Oktoberfest: October 4-5, 2014. Oktoberfest is a weekend-long celebration of Bavarian culture, with authentic music, dancing, food and beer. Complimentary rides for kids and adults, craft vendors and discounted trips on the Cloudsplitter Gondola to the summit of Little Whiteface abound. http://www.whiteface.com/events/oktoberfest
Flaming Leaves Festival: October 11-12, 2014. North America's top ski jumpers compete, soaring through the air while on the ground below. Live Blues bands play and barbecue chefs grill up ribs and burgers. Lawns games, a horseshoe tournament, and craft vendors will also let guests make their own tie dye t-shirts. http://www.whiteface.com/events/flaming-leaves-festival
Brewfest: October 11, 2014. Lake Placid's second annual Brewfest comes to town and allows guests to sample beers from across the country and talk to beer experts as well. http://www.whiteface.com/events/lake-placid-brewfest
Fall Foliage Your Way rates start at $145 per room, per night, including breakfast. To customize your favorite ways to see the foliage and to book one of these special experiences, contact Lake House at High Peaks Resort at 518-523-4422 or visit the website at http://www.lakehouselakeplacid.com.
About Lake House: Lake House is located on Mirror Lake in the heart of New York's Adirondack Mountain regions and Lake Placid's shopping, entertainment and dining district. Within five hours drive of New York City, and 2 ½ hours from Albany, Lake House boasts spectacular lake and high peak mountain views. Complimentary wireless and wired high speed internet access is available in all guestrooms and public spaces. The Bar at Lake House is a place to gather with friends and colleagues after a day of Adirondack adventure. Featuring craft beer, local spirits and a feeling of camaraderie, this cozy Bar is the perfect place to end the active day. Guests can also enjoy a swim in the indoor pool, or a retreat from the day in the hot tub. Lake House guests can take advantage of the amenities of High Peaks Resort including two outdoor pools, free kayaks, rowboats, paddle boats, fitness center and on-site spa and salon. The Lake House hosts, Lauren and Nicole, can arrange guided fishing trips, boating, golf, snow mobile, ski outings and so much more.