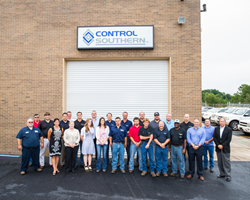 MACON, GEORGIA (PRWEB) August 12, 2014
Control Southern recently marked the launch of its Mechanical Services operations with a flag-raising ceremony and open house event at its new Macon, Georgia, facility.
To commence the event, Control Southern president Doug Turner addressed the audience by summarizing the vision and commitments for Mechanical Services, and proceeded to raise the Control Southern flag. Those in attendance then toured the facilities with Mechanical Services sales and operations personnel as their guides.
"This Mechanical Services kick-off signifies our continual reinvestment in serving our loyal customers by expanding our commitment to improve their life cycle care through the local value of our people and processes," remarked Doug Turner. "Prior to this event, our mechanical services team of professionals across all three locations have worked together to successfully execute several outages and repairs."
Control Southern created Mechanical Services to offer 24/7 repair and testing of pressure relief valves, manual valves, automated valves, and motor-operated valves (MOVs). Recently, the company opened additional Mechanical Services facilities in Savannah, Georgia, as well as Jacksonville, Florida, to locally serve its growing customer base.
Following this event, Control Southern will continue to host customer-specific open houses at this facility.
About Control Southern
Headquartered in Suwanee, Georgia, Control Southern has been a trusted automation partner for the process industries in the Southeast for more than 58 years. Its customer base spans multiple industries, including Chemical, Food and Beverage, Life Sciences, Natural Gas, Power, Pulp and Paper, and Textiles. Control Southern's full range of offerings includes valves, instruments, automation and safety systems, associated services, and automation and reliability engineering. Control Southern was recognized by the Atlanta chapter of the Association for Corporate Growth as one of the top 40 fastest-growing middle market companies in Georgia for 2013 and 2014.