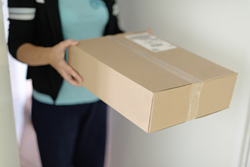 Atlanta, GA (PRWEB) August 05, 2014
AQuickDelivery, a recognized leader in same-day delivery and transportation services, announces scheduled mail stop courier solutions nationwide. The announcement comes in efforts for the same-day courier to expand their current client base, increase customer loyalty and sales growth. AQuickDelivery pursues to be a one-stop courier of transportation and distribution services nationwide.
AQuickDelivery scheduled mail stop courier solutions are comprised of pick up and delivery of mail for clients on a local or national scale. Mail is a critical operational function for any business and must be distributed on a daily basis. AQuickDelivery offers scheduled mail stop solutions for customers that require collection and drop off of mail various times during the week. Whether once a week or daily, AQuickDelivery will provide its' transportation expertise and assist customers to create a scheduled mail stop solution fitting for their specific mail delivery needs. Scheduled mail deliveries are offered during the week, yet can be performed on Saturdays as well.
Scheduled mail courier solutions are based on the exact needs of their clients. Companies may have several locations to pick up mail from and then deliver all of the mail at once to the nearest US postal service office. Clients also can have mail picked up the US postal service office and delivered to one or multiple locations. AQuickDelivery also offers clients to receive morning and afternoon mail deliveries on a scheduled basis as well. AQuickDelivery utilizes route optimization tools to make sure the mail delivery services are performed as efficient as possible.
Customers that would like to set up a scheduled mail stop courier solution, may contact AQuickDelivery via phone or online. Their sales staff responds promptly to all online inquires. AQuickDelivery promotes a number of other courier services within their comprehensive website, including tracking capabilities, as well as automated -mail pick up and delivery notifications.
AQuickDelivery is a same-day courier that provides same-day delivery and distribution services throughout the US. From small packages to palletized freight, AQuickDelivery delivers fast. With its professional driving staff, superior customer service, and modern courier technology, AQuickDelivery continually provides optimal Atlanta courier logistics and freight solutions nationwide. Based in Atlanta, Georgia, the company successfully provides courier services to over 1,500 clients, including Fortune 500 Companies nationwide.