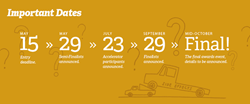 Austin, TX (PRWEB) August 04, 2014
The LIVESTRONG Foundation's inaugural Big C competition trimmed its original field of more than 750 entries to 20 on Thursday for the Martha and Kozo Shimano Entrepreneur Accelerator Program phase, and today finalized its list of 20 experienced business experts to mentor each project. Every mentor will be paired with a project specific to their area of expertise for guidance and advice on launching and sustaining their business until the phase ends on Sept. 15, where judging for the final round will begin.
In the semifinal round, all 168 entrants were paired with a cancer survivor mentor to bring experience from the health and wellness side of the field. The accelerator round entries are represented by projects from six countries on four continents and 10 states within the U.S. These ventures have presented viable solutions to the biggest challenges people affected by cancer face following a diagnosis, according to LIVESTRONG's research.
Five finalists will be chosen on Sept. 29 and flown to Austin, Texas to present their innovations during the Ride for the Roses weekend, where the grand prize winner will be announced at a gala event to be held at Austin Music Hall. Overall, 60 ventures will receive a total of $140,000 in seed funding based on their innovation's utility, ingenuity and benefits to cancer patients and survivors.
The 20 finalists and their mentors are:

A Story Your Way – Edward Pizzarello, RMR Capital
AdhereTech – Janet C. Walkow, PhD, Drug Dynamics Institute, University of Texas
African Alliance on Cancer – Leana May, Boston Children's Hospital
Bras without Wires – Dawn Rogers Sandleback, MD, Private medical practice
Chiron Health – Jon Bassett, Silverton Partners
College Awareness Program – Jim Graham, Sante Ventures
Decisive Health's Treatment Explorer – Mark Watkins, The Hawaii Project
Financial Bridge – Aliki Goodman, Barclaycard; Lucy Lovell, Barclaycard
The Gentoo Vest – Kyle Ballarta, Falkon Ventures
Give Me a Break – Tim Gueramy, MD, DocbookMD; Tracey Haas, DO, MPH, DocbookMD
Help for Lymphedema – Kozo Shimano, Freelance
Litesprite – John Phua, MINE Inc.
Mello – Dave Contreras, Box Inc.; Missy Krasner, Box Inc.
Patient IO – Jens Francis, angelMD
Restwise – Patrick Barry, Visionary Private Equity
TeVido BioDevices – Michael Patton, MD, Texas Medical Accelerator
TowerView Health – Jeff Gross, PhD, CareFusion
Transplant Concierge – Adam Dole, Better
unCancer India – Claudia Quinzani Perez, Seton Healthcare Family; Zoe Schlag, UnLtd USA
About the LIVESTRONG Foundation
The LIVESTRONG Foundation fights to improve the lives of people affected by cancer now. Created in 1997, the Foundation provides free cancer support services and advocates for policies that improve access to care and quality of life. Known for its powerful brand – LIVESTRONG – the Foundation has become a symbol of hope and inspiration around the world. Since its inception, the Foundation has served more than 2.5 million people affected by the disease and raised more than $500 million to support cancer survivors. One of America's top non-profit organizations, the Foundation has been recognized by industry leaders including Charity Navigator, the National Health Council and the Better Business Bureau for its excellent governance, high standards and transparency. For more information, visit LIVESTRONG.org.
###