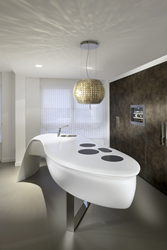 (PRWEB UK) 6 August 2014
LEAF at Maison & Objet
The Maison & Objet trade show will be held in Villepinte from 5 to 9 September 2014. During that time, LG Hausys, a pivotal reference in the world of décor and design, will present its latest kitchen design, "Leaf", made entirely of HI-MACS®. Its chic, simple, organic design will continue to astound you.
This year, the LEAF kitchen is in the place of honour, delighting the informed eyes of lovers of clean lines and organic designs. For this very latest HI-MACS® creation, nature was the source of inspiration for Dutch company Culimaat.
MAISON & OBJET PROJECT Sector
Hall 7 – B2-C1
More information at http://www.himacs.eu/hi-macsr-presents-leaf-maison-objet.
"The Sky is the Limit" at 100% Design Show.
LG Hausys' HI-MACS® is back at 100% Design, 2014, with an innovative futuristic kitchen concept.
'THE SKY IS THE LIMIT' Kitchen Island is a true work of art by Belgium designer Xavier Bonte. The idea for the island was inspired by a dream of a cloud in the sky. When all of the doors are closed, the technical aspect of the island disappears and the blue lines remain in contrast to the stark white, resembling an inversion of the white contrails of an airplane in a blue sky.
100% Design Show
Stand K212 - Sector "Kitchens & Bathroom
More information at http://www.himacs.eu/sky-limit-100-design-london.