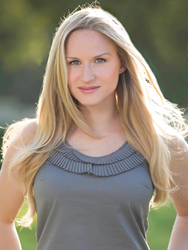 My passion is working on movies that can inspire an audience.
Atlanta, Ga. (PRWEB) August 04, 2014
"Untouched" premiered Tuesday, July 29, 2014, at the Lucas Theatre in Savannah, Ga. The First City Films movie centers around a Savannah attorney who must reconcile a dark event from his past in order to acquit a teenager of murder. The redemptive story goes along with AMTC's mission of "making good bolder." Adam She, president of Actors, Models and Talent for Christ, speaks about the organization's purpose, "Bad is bold, so good must be bolder. It's time for God's stars to stand up on the stages of film, fashion, music and theater, and in sports, to present positive role models that people can follow," Adam said.
Many members of the AMTC family were invited to attend the free movie premiere, celebrating the exciting Savannah film production. Along with Jenn Gotzon, "Untouched" brought in stars such as Chip Lane, Simone Griffeth and Sandra Elise Williams.
Award winning actress, Jenn Gotzon was raised in Allentown, Penn. She first developed a passion for acting when she was 15-years-old. She received her first major on-screen role playing Tricia Nixon in Ron Howard's Oscar-nominated film Frost/Nixon.
Jenn has been in over 50 films, shorts, television shows and documentaries such as "Doonby," "God's Country" and "Alone Yet Not Alone." Many of her recent films are in pre or post-production and will be premiering soon. Jenn has been directly offered 13 out of 14 lead roles she has starred in since 2010.
Feeling called by God to be a part of the entertainment industry, Jenn spends much of her time coaching and mentoring AMTC performers and graduates. She speaks about her main areas of ministry, "My passion is working on movies that can inspire an audience or impact someone's life; a movie written from a biblical worldview, and has a redemptive message. That's how I feel like I can impact the mission field as an artist," Jenn said.
Founded in 1982, Actors, Models and Talent for Christ is a non-profit organization that strives to see the Great Commission of Christ fulfilled in film, fashion, music and theater. AMTC holds strongly to the belief that in order to transform the entertainment industry, God's stars must choose to be in it, but not conform to it.
For more information about Jenn Gotzon and "Untouched," please visit the IMDb page. To read about AMTC or to audition for the international SHINE Conference, visit http://www.amtcworld.org.