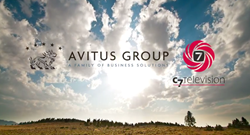 Our partnership with Avitus Group and Dianne Parker is the perfect match in accomplishing our goal of increasing communication within our Community. - Tim Harrington, Community 7 Television General Manager
Billings, Montana (PRWEB) August 11, 2014
Community 7 Television and Avitus Group are announcing a partnership that brings new television programming to Yellowstone County residents and beyond via cable and Community 7 Television's Website. The partnership is an effort to build community through communication and features 3 monthly shows titled "Your City," "Your County," and "Your Schools." The programs are 30 minutes each and aim to give taxpayers in-depth information about how their tax dollars are being spent. Programming officially launched this summer and is available on channel 7 as well as Community 7 Television's website under "watch live" or "archived meetings."
"This is something we had been wanting to launch for the past few years as a service to the taxpayers of Yellowstone County and couldn't until we had the right host and the right community partner. Avitus Group is top notch and realizes the importance of giving back to the Community. Our partnership with Avitus Group and Dianne Parker is the perfect match in accomplishing our goal of increasing communication within our Community." -Tim Harrington, Community 7 Television General Manager
"I was honored when Community 7 Television approached me about hosting the shows. It is a perfect fit with my background in journalism, television and knowledge of and involvement with this great community. My full time employer, Avitus Group was immediately interested in sponsoring such robust programming that informs many of our clients, the business owners and taxpayers of Yellowstone County." -Dianne Parker, Community 7 Television Host & Avitus Group Public Relations Manager
"Building community through communication via the new programming on Community 7 Television aligns with our corporate giving goals. We're happy to be able to provide this informative programming as it truly does affect the businesses and individuals we serve as one of the state's top 10 largest employers." -Ken Balster, President Avitus Business Services, Inc.
Avitus Group is a nationwide company, based out of Billings, Montana. Avitus Group helps other companies with administrative hassles. When businesses use Avitus Group, all of the necessary, yet burdensome functions of the business become Avitus Group's responsibility, so the business can focus on what they do best, grow and increase profits. Avitus Group serves clients nationwide through 10 regional office locations from California to Florida. They also serve international clients through partner locations in Europe, Canada, China, England, India, Japan and Singapore.
Community 7 Television is Billings' only public, education and government access channel. Community 7's mission is to provide local media access to the diverse population of the community. The result is a wide variety of programming that showcases Billings, ranging from education and government news to the arts, local organizations and individuals.